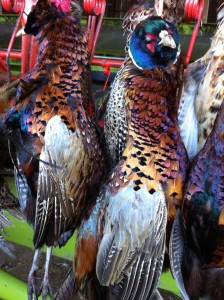 Just a couple of weeks to go until the glorious twelfth!
And thoughts are obviously starting to turn to the coming shooting season
"What equipment do you need for picking up?"
Was a question asked by someone on the forum recently.
Making a list
Getting ready for your first day's picking up can be quite daunting.
So although you will already have an idea of what to take with you, it is a good plan to have a checklist.
Just to make sure nothing gets left out.  Here are some ideas
For handling your dog
For controlling your dog, you'll need your whistle, and it is a really good idea to have a spare one in the car.  You can check out this article, for more information
No matter how well trained your dog is, you'll also need a slip lead.
There will be times and places on almost any shoot, where dogs will be required to be on-lead.
For despatching and carrying game
Priest/despatcher
Pheasant carrier
You will need to despatch any live birds that your dog brings you.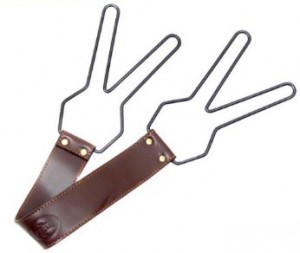 Some people are able to despatch a pheasant humanely with a blow from their stick,  but a good tool for this is a weighted priest
You will also need a means to transport your pheasants to the game cart, which may be some distance away.
You can use a game bag, but this is not a great way to store/carry food, so I prefer a pheasant carrier
 which holds the dead birds correctly by their necks and lets them cool quickly
To protect yourself
Thornproof leggings
Thornproof jacket
Stick
Hat/gloves
Thornproof clothing, whilst not always pretty, is essential on many shoots.
There may not be many times on your first shoot when you will be required to push your way into tough cover,  but if it does happen, you'll feel very sheepish if you can't go where others go,  and you'll be fed up if you ruin an expensive non-thornproof, jacket by ripping it to shreds.
Many modern all weather jackets are amazingly waterproof, breathable, light and warm.  But far too flimsy to withstand tough brambles or other thorny bushes.
Leggings go over the top of your trousers and do up with press studs down the side.  They are warm and windproof as well as protection for your clothes and from the rain.
Waxed cotton is probably the toughest fabric and a sturdy waxed cotton jacket is well suited for the job.
Unless you are as agile as a young gazelle, I strongly recommend you take a good, strong, tall thumbstick. This will act as an extra leg whenever you have to clamber up a steep slope or scramble over ditches.
You can lean on it when you are tired, rest your camera on it to take a photo, and hang your jacket on it when you get hot!  I never go anywhere in the field without mine.
Bad weather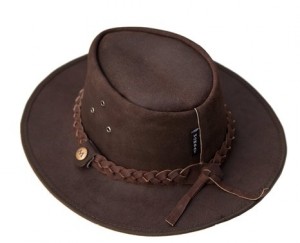 For cold and/or wet weather you'll also need a suitable hat.   Remember, shoots are rarely cancelled because of the weather, so whatever it is doing, you'll be out in it.
A waterproof hat with a decent brim will stop the water running down inside your jacket collar, without interfering with your vision the way that hoods do.
In the winter some fingerless gloves can make all the difference to being cold, and yet enable you to tie string, and use your hands without difficulty.
Sustenance!
Water
Flask
Snack/lunch
Dog food
Many shoots provide food at intervals throughout the day, but not all.  So find out in advance if you need to bring a packed lunch.

Picking up is thirsty work, so I take a small bottle of water, and a 'DrinkPod'
with me.  I love my drink pod, it holds one mug full of coffee, is small enough to fit in my pocket, won't spill and stays hot for over four hours.
Mine is bright green so I don't lose it, but it comes in lots of different colours.
If you are working a high drive spaniel, you may need to offer a small feed when you stop for a break.   Some spaniels can burn themselves out during the morning otherwise and end up collapsing from low very blood sugar.
Don't be tempted to offer chocolate as a high energy snack, even if you see other people doing this.  Some dogs react very badly to a chemical called theobromine that is present in all chocolate and in especially high quantities in dark chocolate.
For emergencies
First aid kit
Spare clothes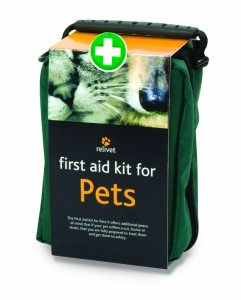 It is a good idea to keep a basic first aid kit
in your car.  For both you and your dog.
Accidents can and do happen.
A spare set of clothes is very useful especially if your shoot includes ponds and streams.
You will fall in at some point!
The end of the day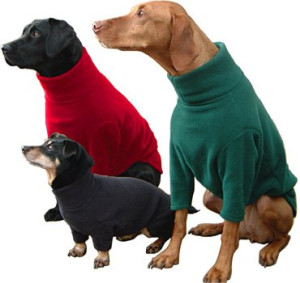 At the end of the day you'll need plenty of old towels to get the worst of the water and mud off your dog.
With an older dog, you might want to consider putting him in a fleece jumper or towelling jacket, especially if you have a long drive home.
Check the size and colour carefully – the link above is for a large blue fleece.
What about you?
Any tips or suggestions?  What do you find useful to get you through a day's picking up?  Share your thoughts in the comments box below.
Totally Gundogs is an Amazon Affiliate site, and some of the links in this article are affiliate links.  This means if you purchase through the links above, we receive a small commission.  This is very much appreciated, and does not affect the price you pay.  We only link to products that we feel are useful and relevant.