[wp_ad_camp_2]For gundogs that work in the shooting field,  whistle control is essential.
But I recommend that all dog owners train their dog to respond to a gundog whistle.
I will explain why.
First let's look at what whistles can and cannot do.
What a whistle cannot do
Experienced dog owners may be surprised, but there are plenty of dog owners out there, who have high expectations of a dog whistle, and are deeply disappointed to discover that the whistle itself has no special powers when it comes to training a dog.
When you buy a whistle, you need to be aware that a whistle has no 'intrinsic' meaning  for a dog.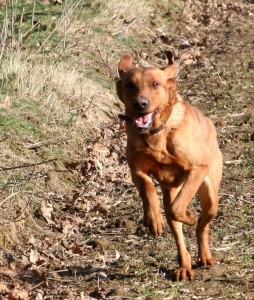 Your dog is likely to be interested in a whistle because it is a distinct and unusual sound, compared with the constant background noise of everyday conversation and other normal human noises.
Because the whistle is 'distinctive' the dog may approach you to investigate when you blow it,  but don't be fooled by this. 
This effect is completely temporary.  The dog will soon lose interest in the whistle  unless he begins to associate the sound of it, with something that he values.
Whistles do not train dogs, people do
Do you need to buy a whistle to train a companion dog?
Strictly speaking, you do not need a whistle.  Whistles do not train dogs, people do.  You can teach any dog to recall to voice alone,  and a pet dog can be trained to a high standard without a whistle.
However, a whistle is a very useful tool.  You will find a whistle very useful outdoors, and you may find you feel a lot more dignified blowing a whistle than bellowing at the top of your voice when you dog is a long way off.
Why do we use whistles for gundog training?
We use a whistle for gundog training rather than human voice, for  three main reasons.
It is easier to hear
It is unambiguous
It is less disturbing to game
It is easier to hear
The first reason we use a whistle for gundogs is because these dogs have to work at  a distance from the handler, outdoors and in all weather conditions.  The human voice simply does not carry as effectively as a whistle, especially on a windy day.
It is unambiguous
The second reason a whistle is used for advanced dog training is because the whistle makes a very clear and unambiguous signal.
The human voice is infinitely variable and this is a disadvantage when we are training animals.  Each command a dog learns, is learned most effectively when paired with a crystal clear and never changing cue.
A good quality whistle will not alter in pitch when you are angry or  tired, or when you have a sore throat.  It is totally reliable and consistent.
It is less disturbing to game
The purpose of a gundog is to collect food for the table.   More specifically, food that has been shot by his handler.  The human voice is very  disturbing to game,  a whistle far less so.
If a 'hunter' is not to go home empty handed, it is important that gundog work is carried out with the minimum of disturbance in the countryside.
What are the limitations of the whistle?
Sometimes we want to work a dog in almost complete silence,  in these cases a hand signal, or whispered voice command may be more appropriate. The same applies when a dog is at very close quarters. And unlike your voice, whistles can get lost,  or  forgotten.   In practice, most gundog handlers teach voice commands first then add whistles and hand signals in a bit later as training progresses.
Some gundog handlers find it awkward to shoot and use a whistle at the same time. This is only a factor when working a young hunting dog, where the whistle is normally kept in the mouth whilst the dog is hunting and flushing game.
What is special about a 'gundog' whistle
The Acme gundog whistles that I use are very robust.  In over thirty years I have never broken one  (though I have certainly lost a few) Their strength is another reason why I recommend them to pet dog owners too.
And you can now get them in brighter colours which make them easier to find if you drop them.
The Acme whistle also has a very consistent sound.  They come in different 'pitches' to suit the preference of the owner.  If you lose one, you can buy another with exactly the same tone.
You can buy staghorn gundog whistles from gunshops and pet shops.  These come in various shapes and sizes and can look very attractive, but when you lose one,  you may struggle to find another with the same pitch. This is why almost all gundog handlers use acme gundog whistles.
How do I train my dog to a whistle?
There is nothing different or special about teaching your dog to respond to a whistle.  It is done in just the same way as teaching the dog to respond to a voice command.   You will need to pair the whistle with the behaviour you want to see in your dog, and reward the dog when it completes the required action.  This process takes time.
You can find detailed instructions on training your dog in the Gundog Club Training Guides.  If you have a pet gundog you might prefer to work through my recall training programme which is available from July 2012.  It's called Total Recall.   And is available from Amazon.
What are the standard gundog whistle commands?
Sometimes people are unsure how to blow the whistle for best effect.   In principle it  does not matter which type of whistle signal you use as long as it is always the same.  In practice there are some standard ways of using the whistle in 'gundog circles' that you might find helpful to begin with
The recall signal
This is usually string of 'pips' on the whistle.  I use five:  pip-pip-pip-pip-pip.  Some trainers use three or four pips, which is fine for retrievers.  But as I work spaniels, I like a really strong distinction between recall and turn whistles
TIP: blow the recall signal softly whilst your little puppy is eating his dinner, he will associate it with a great reward right from the start.
The stop signal
Usually a single strong blast on the whistle.  'peeeeeeeeeeep'
TIP: teach your dog to stop to a soft-shortish  peeep to begin with and save the really  strong blast for emphasis when he is a long way off
The turn signal
Hunting dogs are taught to turn on two pips of the whistle 'pip-pip'
If you are still unsure how the whistle should sound, or how to blow yours effectively, you can book a session with a gundog instructor who will demonstrate for you and go over the basics to get you off on the right foot with your whistle training
Switching from voice to whistle
If your dog is already trained to a known voice command you can switch quite quickly to whistle by giving the whistle command followed by the voice command over a period of a few days, then gradually fading out the voice command.
I think you will find that it is well worth the bother of doing this,  even with a pet dog!
Have fun with your whistle training!
If you enjoy my articles, you might like my new book: The Happy Puppy Handbook
 – a definitive guide to early puppy care and training.