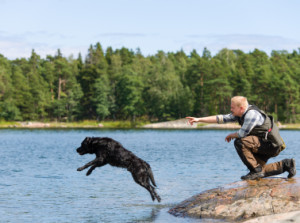 The ability to control a dog at a distance is one that many working gundog owners aspire to.
There is a particlar joy in watching a dog glide gracefully to a halt at 100 yards, on the peep of a whistle, and turn to his handler for instructions.
It is a skill to be proud of. And far easier to achieve than many people realise.
The purpose
The purpose of directional control is to enable the handler to provide his dog with information
Information that gives the dog a better chance of completing his task efficiently.
There will be times when your dog is best left to get on with the job by himself.
But there will also be times when the job in hand can be completed much more efficiently with your assistance.
The process
The handler's knowledge is transmitted to the gundog working at a distance, by a combination of hand signals and whistles.
And in order for man and dog to work together in this way, the dog must be willing to pay attention to the handler and to respond to his cues.
Even when the two are separated by considerable distances.
Difficult marks
Ideally, we want our dogs to mark accurately and to collect a mark independently.   We don't want to be forever handling a dog onto marked retrieves,  however fancy it may look to inexperienced bystanders.[wp_ad_camp_1]But in the real world, there is plenty of scope for error.
It is easy for a dog to overshoot the area of fall,  or start hunting short, or to one side, and waste precious time in doing so.
It can be very frustrating watching a dog fruitlessly pouring all his efforts into the wrong piece of ground.If you cannot direct your dog at a distance, then your only option is to walk out there and help him.
Wasting yet more valuable time.
If he is on the far side of a river, then you are unable to assist,  and the retrieve may well be lost.
Blinds
Many times, in the shooting field,  someone will have an idea of where a bird has fallen.
Even though the dog required to retrieve it did not observe that bird being shot, or see it fall.
This is where directional control comes into its own,  as an essential component of blind retrieving
The blind retrieve is dependent on the handler guiding the dog close enough to the retrieve so that the dog's nose can take over and complete the job.  This is the true purpose of good directional control.
The components of directional control
There are two key components to directional control
The ability to choose the direction in which your dog travels
And the ability to bring him to a stop.
Otherwise known as 'brakes' and 'steering'
Equipped with these two abilities, you can, within reason,  handle your dog into a small area of ground, at considerable distances from you.
Installing the steering
Teaching your dog to take directions from your hand signals and verbal commands is a skill that we need to build up in stages.
Directional control is not just about communicating with a dog at a distance,  or 'casting'.   It is also about sending him out in the right direction in the first place.
Sometimes the dog is at heel when we send him to retrieve, and the skill of controlling the direction of this dog's 'outrun' is called 'lining'.
You can follow this link to find out more about casting and lining.
Installing the brakes
Of course, in order to cast a dog that is some distance away, we first need him to stop and look at his handler.  And this is where your 'brakes' or stop whistle comes in
Teaching your dog to stop to a whistle is an essential component of directional control and like most other skills, it needs to be built up in careful stages.
You can find out more in the stop whistle training series that starts on this page: Introducing the Stop Whistle
Teamwork
Directional control is teamwork in action.  The handler's knowledge of the approximate location of the area of fall, and the dog's nose, work together to locate the retrieve.
It is also a lot of fun to teach.
We'll be looking in some detail at the process of teaching directional control over the next few weeks.
If you would like all this information together in one place,  you can also buy my training manual 'Passing Grade Three'. It is available  from the Gundog Club bookshop.