Missing out?  Click here to get my new articles delivered to you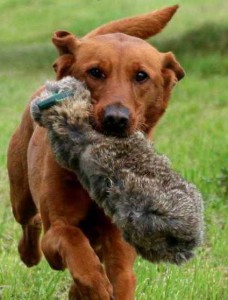 It is often said that truly gunshy dog can never be cured.  It is a bit of a catch 22,  because if you say you have cured a gunshy dog,  people will mutter to themselves that the dog was actually just 'gun-nervous'.
And if a handler cannot cure a gun-nervous dog, he will say that the dog was probably gunshy all along.
The fact is,  there is no clear division between gun-shy or gun-nervous.  They are somewhat abstract terms that refer to different degrees of fear in the presence of gunshot or other loud bangs.
Born or bred?
Whilst some dogs are definitely less susceptible to fear of noise,  the probability is that most gun-shy dogs are made rather than born.[wp_ad_camp_1]I have a Labrador that had a horrible experience when she was about three months old. 
A neighbour let off some very loud fireworks unexpectedly just a few feet from the puppy when she was alone in the garden.
She panicked and managed we know not how,  to bolt clean through a thick hedge and out into the road.  Fortunately she found her way into our drive and thence to our front porch.  We discovered her there some time later, pressed into a corner cowering, shaking and absolutely terrified.
Up until then, Tess had been a confident puppy,  happy to have saucepans clattered around her and indifferent to all sorts of loud sounds.  From then on,  any loud noise sent her scurrying under the kitchen table where she would shake uncontrollably.
We tried various ways to 'desensitise' her without much luck.  I was devastated.  So much potential ruined and gone to waste.   But there was a lot going on in my life at that time,  and I didn't have the time to spend on intensive 'rehabilitation'.
We decided to give up,  and Tess became our family pet.
But sadly she was not able to enjoy coming out with us shooting or picking up.
A new home
When she was about three,  my daughter decided that she would like to have Tess as a pet, and took her home to live with her.  This seemed like a good opportunity for Tess to have more of a family life.
I really missed Tess whilst she was away,  and when my daughter's hour at work were changed, I jumped at the opportunity to have her back.
Starting over
My life had changed too,  and I now had a little free time.  I felt sorry for Tess watching me and the other dogs go out training without her.  She was now less bothered by sudden household noises than previously,  and I decided to have another go at curing her fear of loud bangs.
But first I needed to play 'catch up'  as she had had very little formal training apart from basic manners and retrieving for fitness.    We spent a few weeks building up her obedience so that she could join in my group sessions with the other dogs.
Gun nervous?
Once I had got Tess used to sitting in a group with the other dogs whilst I walked a hundred yards or so away,  I tried to introduce the starting pistol,  fired inside my game bag to muffle it.   At well over a hundred yards,  this was very low volume.
Anyone watching would probably think Tess was just being naughty,  because her only reaction was to stand up.
But I knew she was not happy.   Tess is a paragon of virtue and would never stand up without permission,  no matter how far away I was.   When I returned to the group I could feel her heart pounding.  She would not sit down again,  was panting hard and kept trying to jump up at me.  All completely out of character.
We had walked some distance from the vehicle or I believe she would have bolted back to it.   But right now,  being with the other dogs offered some comfort.
I realised I had probably been over-optimistic to even attempt the exercise and clearly needed to think again.
A CD of sounds
The first thing I did was to borrow a CD player and get a copy of the sounds for behaviour therapy CD.   I then played this constantly in the kitchen.  All day with no let up.  At a very low,  almost imperceptible volume
Tess spent most of that first day under the kitchen table.   She really hated the CD even at a volume that I could barely hear.  It was very tempting at this point to give up.
I completely ignored her for the rest of the day,  and left the CD going.  By evening,  she was sufficiently comfortable to emerge for her supper.
We progressed over the next few days.  Each time she got used to a particular volume,  I fussed her and engaged with her when she emerged,  then gradually increased the volume.   After only a few days, I could play the CD at full blast without her being at all bothered.
This was exciting.  Real progress.   Foolishly I thought I could now go back to the muffled starting pistol at a distance.
Back to the starting pistol
I tried again with the starting pistol, but to my dismay,  her reaction was just the same.  She did not like it at all.
Now I decided to change tack completely
Running in
Tess is a passionate retriever, very natural, very fast,  and very keen.  She was also by this point,  completely steady.  What I proposed to do would ruin the steadiness,  but then there wasn't much point in steadiness if she was never  going to get to go shooting!
I got my better half to help me and set about playing a massive retrieving game which involved me getting Tess completely over-excited, hurling dummies, and letting her run in and chase them.  All of them.  Over and over.
When she was completely engrossed in this new and very naughty activity, my husband fired a shot from the starting pistol from a hundred yards away.
Hey presto!   At last no reaction from Tess.   She was too engrossed in the 'game' to be afraid.  We had something we could build on.
Over the next few weeks we brought the starting pistol closer and closer until we could fire it all around her whilst she chased dummies.
At last my retriever was losing her fear of the pistol.    But would I ever be able to get her steady again?
Restoring steadiness
This was not as much of a problem as I anticipated.  I simply stopped all retrieving and just went through my steadying up process as if she were a puppy.  All went well.   The next task was to get her used to real gunfire.
The pigeon shooting season was now upon us and so I spend several days walking Tess around at a considerable distance from the various pigeon hides on the farm (hundreds of yards).  Despite our success with the starting pistol.  She was not happy to begin with.  This was frustrating but there was no way I was going to give up now!
I persistently distracted her with training,  retrieves and food until she relaxed.   Gradually moving closer and closer to the action.
By the time the summer was drawing to a close,  I could get within 50 yards of the gunshots without any problem.   The start of the pheasant shooting season arrived and I was disappointed that she was not able to come with us,  but we continued to bring single gunshots nearer and nearer to her. She was improving all the time.
Problem solved
By November Tess was at last able to cope with shots fired from a 12 bore at her side,  and by Christmas she was able to come rough shooting with us.
Her first driven shoot days in January were a huge milestone for me and for her.   At last this sweet natured little bitch could do what she was born to do,  and she was loving every minute.   A fearless 'cover basher'  she was now a really useful member of our team.
Together we had come a long way,  and my foxy red pet,  was now a proper working dog.
Will it work for everyone?
I am not touting this method as a system for curing a gunshy dog.   I cannot say if it would work for every dog,  or in every situation.  It might not work with a dog that was inherently gunshy rather than gunshy through an accident like Tess.
I can only tell you what worked for me.
Have you helped a gunshy or gun nervous dog?   What worked for you?  Why not share your experience the comments box below
If you enjoyed this article, you might like my new book: The Happy Puppy Handbook
– a definitive guide to early puppy care and training.