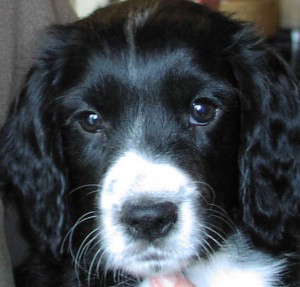 Why aren't we health testing more of our working spaniels?
This is a popular topic of conversation in working gundog circles and there are strong feelings on both sides.
In the show dog community there is widespread testing for a range of diseases which affect our two most popular spaniel breeds,  the springer and the cocker.
In the working dog community there is now increasing attention to  health testing amongst reputable working Labrador breeders  for a range of conditions such as hip dysplasia.
Yet very few working spaniel breeders,  even those at the top of their 'league'  are involved in much testing.
Working spaniels are healthy
I have heard many comments to the effect that working spaniels don't suffer from problems like hip dysplasia.   And sadly this is not true.  My little cocker pup in the picture at the top of this page was crippled with hip dysplasia before her first birthday.  And she came from a top trialling kennels.
Hers,  though more severe than most,  is not an isolated case.
Whilst it is probably true to say that hip dysplasia may be somewhat less likely to occur in a working puppy than in a show puppy (because both working parents will have been exercised hard and any lameness identified) this is by no means always the case.
Both working cockers and working springers can suffer from hip dysplasia in all its forms from mild to severely incapacitating.
Milder cases of hip dysplasia may not show up until the dog is three or four,  even older,  by which time the dog may well have produced a litter.
The need for x-rays
Hip dysplasia is a very complex condition and eliminating it entirely is unlikely to be possible.  The genes (probably several) that cause hip dysplasia have not been identified so there is no DNA test.  And other environmental factors also influence the condition.
All we can do is reduce the risk of more puppies getting HD by mating dogs that we can see (on x-ray) have good hips.
But without widespread  x-rays of the parents of all spaniel breeding stock,  this potentially devastating condition is likely to continue to raise its ugly head from time to time,  way into the future.
PFK, PRA and Fucocidosis
The following diseases are all found in English Springers and tests are available to determine whether or not breeding dogs and bitches are carrying the faulty genes.
PFK is a disorder that affects the blood and muscles causing mild to severe anaemia.  It can be difficult to diagnose and affects the performance of working dogs as it is aggravated by exercise.
PRA is a progressive type of blindness.  A few  working spaniel breeders are starting to test their breeding stock for PRA.
Fucocidosis is a horrible and eventually fatal condition disease affecting Springers.  You can follow this link to Hampshire Gundog Breeder Christine Bridgwater's article on Fucocidosis  for more information.
Despite the availability of DNA testing the uptake in working kennels for these tests is so far not impressive.
Stud Dogs
Whilst testing of bitches will protect three or four litters of puppies,  the testing of stud dogs can offer protection to a much wider population.
Popular trial winning stud dogs tend to be used many, many times during their lifetime.  Siring literally hundreds of puppies.   Testing these popular dogs would really help bitch owners make good breeding decisions that could influence the health of future generations.
In most cases,  the DNA test reveals that the dog is either a carrier,  affected ( ie he will get sick) or clear.    Unless the dog is 'affected'  he can still be used at stud,  but will need to be mated only to bitches that are 'clear' in order to avoid producing affected puppies.
Cocker health
There are also diseases which affect working cockers.   In addition to HD discussed above we have Familial Nephropathy,  a kidney disease.   Glaucoma,  and PRA.     There are tests available for each of these conditions.    A visit to a few show cocker kennels quickly reveals that stud dogs in the show community are routinely hip scored and tested.
I checked out the websites  of several well known working spaniel kennels today,  and if their stud dogs are being health tested,  they are certainly keeping very quiet about it.
The cost of testing
There is no doubt that the cost of testing is an issue.  Especially with hips.
As is the general anaesthetic or heavy sedation required in order to get a set of hip x-rays good enough for the BVA assessors.    No-one wants to put their dog through a GA without good reason.
With the more straightforward DNA blood tests,  the cost is usually lower,  and once a 'clear' dog has been mated to a 'clear' bitch,  all the descendants will be clear so that these dogs may not need to be tested.
So is it worth testing?
Many in the working community would say that there is simply no need for testing.   They feel there is insufficient evidence of there being any problem with working spaniel health.
One problem is that most working spaniel puppies go to pet homes,  and most pet owners do not make a song and dance about it if their dog gets sick.  They just get on and look after the dog as best they can,  often footing a vast veterinary bill without complaint.
And I know too many people within the working gundog community that have shared my own experience,  or something similar,  with hip dysplasia,  to dismiss the view that we do need to keep ourselves up to date and on board with the latest available tests.    Especially where popular stud dogs are concerned.
What do you think?   Share your thoughts in the comments section below.
Do you want a healthy puppy?
Some,  a few,  working kennels, mostly smaller breeders, are starting to test their springers and cockers.   If you are looking for a spaniel puppy these breeders are a good place to start.
It is unlikely that there will be widespread uptake of testing schemes without enforcement by the Kennel Club or  the pressure of public demand.  And that means asking breeders if they test,  and making it clear you are looking for a puppy from tested parents.
I have put up a list of breeders that health test their working spaniels.   It is very small at the moment,  but I hope it will grow.
Asking breeders if they test will encourage them to do so,  if prospective buyers enquire about tests in sufficient numbers
Remember that for most of these conditions the puppy needs to inherit a copy of the 'bad' gene from each of its parents in order to get sick.    If you find a puppy where even one parent has been tested and is 'clear' for conditions affecting that breed,  that will still help you.
Just make sure you test your puppy before you breed from her,  as even if her father was clear for various diseases, she may still be a carrier if her mother's status is unknown.  In which case you will need to mate her to a 'clear' stud dog.
A health tested puppy is likely to cost you a bit more than one that is not tested.
It's your call of course,  but from experience I can tell you that it is hard to put a price on the heartbreak of raising and training a puppy only to discover that it won't even be able to go for a walk,  never mind work a full day on a shoot.
To find out more about many of the tests mentioned above visit the Animal Health Trust  website.  For information on Hip Dysplasia testing  visit the BVA  website.
For information about health screening in Labradors visit the Labrador Site
If you enjoy my articles, you might like my new book: The Happy Puppy Handbook
 – a definitive guide to early puppy care and training.