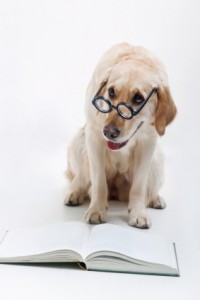 This section is for those interested in understanding why their dog behaves the way he does.
But why should you bother?
Isn't it simpler if someone just tells you what to do with your gundog?
And gives you exercises to practice?
Well,  no,  actually it isn't.  The problem with passing on knowledge in packages which teach you how to address each skill in turn, is that no two dogs are the same.
There is an infinite number of ways in which an exercise can go wrong, and an infinite number of problems that your dog may develop along the way.
Knowledge is power
Understanding how gundogs learn gives you the tools to deal with difficulties as they arise.[wp_ad_camp_1]Understanding how gundogs learn can also save you a lot of money.  
It enables you to discriminate between bad trainers and good.
And ultimately it enables you to create your own training programmes, and to modify someone else's training ideas or exercises, to suit your dog.
A game of consequences
Gundogs actually learn via the same mechanisms as any other dog. Through the consequences of their behaviour.
The secret to success in any field of dog training lies in taking control of those consequences.
Because the mechanism of learning is the same for all dogs, some of the articles in this section are stored on my general dog training site "Totally Dog Training"
Choose from
If you enjoy my articles, you might like my new book: The Happy Puppy Handbook
 – a definitive guide to early puppy care and training.