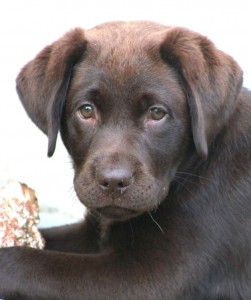 Members of the shooting and working gundog communities will be well aware that chocolate Labradors have a poor reputation when it comes to working ability and general intelligence.
If this is the first you have heard about it, check out my in-depth article on the origins and characteristics of Chocolate Labs here: Chocolate Labradors – myth, facts and fun
Few chocolate labradors are worked, and even fewer are successful in competition.
So,  what possessed a perfectly sensible (well usually) gundog enthusiast,  with access to any manner of nice dogs, to buy a chocolate Labrador?
The search for Rachael
I began my search for Rachael with an entirely different colour of Labrador in mind.[wp_ad_camp_1]Usually, when I want another dog to join my picking up team, I breed from one of my own bitches.
This gives me complete control over the choice of mate and puppy.  But this time I hesitated.
My own young lab bitch is everything I could ask for in a Labrador, temperament and behaviour wise.   I have been very tempted to breed from her,  but her conformation is not quite to my liking.   And the conformation or shape and structure of working strain labradors, is a subject that I have become increasingly interested in, over the last few years.
Fox-red
My lovely fox-red bitch is typical of many 'field bred'  labradors in that she is built for speed.   Her frame is very slender indeed.  Her ears are a touch too long, her face a little too narrow,  and she does not have the nice 'otter tail'  of the traditional Labrador,  but she retrieves at the speed of light!
She is also a beautiful shade of deep red, and is probably the most honest and sweet natured lab I have ever owned.
At four years old,  she is nearing the end of the sensible age bracket during which to have a first litter.  She has also had no health tests yet and carrying these out would be quite expensive exercise for just a single litter.
A sensible plan
So,  it seemed that the sensible thing to do,  would be to try and find another bitch like her.   And to let someone else take on the hard work of raising a litter,  and the expense of carrying out the health tests.
It was a decision that looked perfect on paper and in my head.  But in my heart a  doubt lingered on, and it soon became clear that my husband was not happy with having another fox-red bitch unless it was one that we had bred ourselves.   His preference was black or perhaps chocolate.
The lure of chocolate
For some time I have had a bit of a 'hankering'  for a chocolate (or liver as they are more traditionally known) Labrador.   I love the liver colour in all gundogs and it is no secret that my absolute favourite dog of all time, is my little liver cocker, Meg.
Before you roll your eyes,  I appreciate that colour is no basis on which to choose a dog for gundog work!   It's probably a girl thing…
But, I have always firmly pushed this 'hankering' for chocolate (both Labrador and edible) to the back of my mind,  because I know it probably isn't good for me.  I am only too well aware that it  is really difficult to find a chocolate Labrador with some good working genes behind it.
Conformation
In the UK the Labrador has been divided into two distinctive strains which have diverged quite widely in both appearance and temperament.  In addition to my weakness for Chocolate, I have also long been concerned about the effects of this divergence on the conformation of our working dogs.
Dare I say,  I think that the conformation of some working labs is very poor?
I know that many working gundog breeders will not agree.  But it seems to me a sad thing that quite a few working strain labs bear more than a fleeting resemblance to a greyhound.  Though that of course is a whole other article!
Some show dogs have gone in the opposite direction with oversized heads and too much bone,  but on balance,  most do still look like Labradors,  and much of their odd appearance (to my eye) is down to simply being overweight.
A compromise
However,  the hankering for a Labrador with some substance,  a broader face, and a proper otter tail was something that I was not intending to push to the back of my mind.    With this puppy, I now acknowledged that I really did want a more heavily built labrador with a much more traditional appearance than my own red bitch.
And I gradually realised that I needed to come to terms with the fact,  that a  Labrador from purely working lines, no matter how carefully bred, was always going to be something of a compromise in this respect.
My mind swung back once more to thoughts of chocolate!
Mixing work and show lines
One way to get that more traditional looking labrador,  is to drop some show blood into the pedigree.  But this is process that is fraught with difficulty.
Mixing show and working genes is no easy matter and there are no guarantees that the resulting pups won't have the worst qualities of both sides.   Differences in temperament mean that working strains tend to be more sensitive, and therefore more trainable, than their more emotionally robust show cousins.
You could end up with a skinny whippet of a dog, with no retrieving instinct,  no brains and a stroppy attitude, to boot.
To be reasonably sure of a good conformation you probably need a hefty dose of show blood,  and that means taking a gamble on working ability and temperament.  But working ability is not just about genes. It is also about training and environment.  And those were things I could influence.   As you can see, I was talking myself into it!   It was time to make a decision
I decided to take a chance on chocolate.
Working Chocolate Lines
Styleside and Grangemead are two kennels that are known for producing working chocolates.   And  the Wylanbriar kennels  not far from me in West Sussex has a chocolate stud dog with these lines behind him.   Tom retrieves well and has plenty of drive and his breeder is honest about his flaws.  I liked the look of him.  And this was my starting point.
Tom had sired several litters quite recently.  Several to chocolate bitches that actually work on shoots, though most were entirely show bred.  But one of these bitches had some Manymills in her pedigree.   This caught my eye.   Manymills was kennel belonging to the late Susan Scales, and was known for producing multi-purpose Labradors that excelled in several disciplines whilst also winning in the show ring.
These puppies had a good 'splash' of working genes on both sides,  and both parents were working gundogs.    I would be kidding myself if I thought the mix was any kind of a guarantee,  but it should give me a chance.  Something to work with.
I was in luck.  There was one last puppy unbooked from this litter,  and it was a bitch.   She was nearly eight weeks old.   I had found Rachael.   And was ready to begin my Chocolate Adventure!
Rachael's Journey starts here:  Rachael comes home
If you enjoy my articles, you might like my new book: The Happy Puppy Handbook
 – a definitive guide to early puppy care and training.