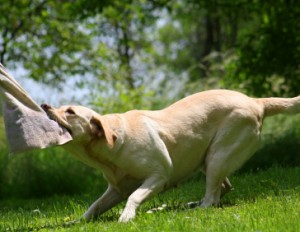 Dogs love playing 'tug'.
But, if you are hoping to train your dog as a working gundog you will probably have read, and been given, advice on avoiding any kind of 'tug of war' game with your gundog.
Grabbing the end of a rope toy and hanging on for dear life whilst your dog pulls at the other end making all sorts of playful noises, is a source of great pleasure to both dogs and their owners.
So why should  gundogs be denied this seemingly harmless game.
The priniciple reason is that it has long been believed,  that tug games can make dogs hard mouthed.
Why is soft mouth so important?
One of the most important attributes of our gundog breeds is the gentle way that they carry a retrieve.[wp_ad_camp_1]This is very important because the objective of killing birds and rabbits is so that we can eat them. 
The last thing we want is the animal all 'mashed up' and unfit for the table.
Discovering that a gundog is hard-mouthed spells the end of his career as a retriever.  
And as 'hard mouth'  cannot be diagnosed until the dog is working on game,  a great many months of training will have come to nothing.   For a professional trainer this is a financial loss as well as a huge disappointment.
Do  'tug'  games cause hard mouth?
There are two schools of thought on this one.  Traditional trainers say yes.  And for many years no-one questioned this advice.
More recently, trainers from other dog disciplines have begun to get involved in gundog training, some using different  methods,  and it is not unusual now to hear people claim that their dog is allowed to play tug and that this has not affected his mouth.
Evidence
Until recently, in the cases that I had come across,  the claims that tug does not cause hard mouth were based on the owners observations of their dog working on dummies.
Unfortunately,  hard mouth can only be properly diagnosed when a  dog is working on game.  A hard mouthed dog may not rip or puncture a bird,  but will often inflict crushing damage which can be felt by an experienced person as they examine the bird.
I have now seen statements made by a couple of reputable trainers, that work their dogs on game, and play tug with those same dogs.   These trainers claim that this activity has not caused any problems with their dogs' mouths.   And I have no reason to doubt them
I cannot personally vouch for the effects of tug games on a dog's mouth because I have no experience of playing tug with gundogs.  Hard mouth is a complete disaster in a gun dog,  and so I probably won't be putting the theory to the test.   You, however, might feel differently.
A personal choice
If you do play tug with your gundog,  and want to attend training sessions with a traditional trainer,  bear in mind that they are unlikely to approve.
How much that will matter to you will depend on your own temperament.  But, it is probably also worth bearing in mind, that you don't need to play tug with your dog to keep him happy.
It is a personal choice,  but with so few trainers actually claiming any experience with using tug games in gundog training, and such widespread negativity towards it in the working gundog community, you might want to give it a miss for the time being.
If you enjoy my articles, you might like my new book: The Happy Puppy Handbook
 – a definitive guide to early puppy care and training.