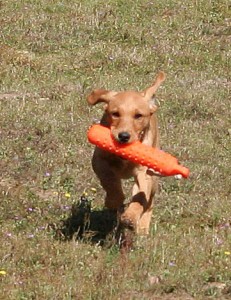 In weeks one and two of this mini-series, we looked at getting a puppy to chase and 'pick-up'  a thrown object.
Today's concluding article is all about ensuring a reliable return and delivery.
Some pups will bring a dummy straight back from the very first day.
If your dog does this, that is good, you will now need to encourage this to become a lifelong habit.
There may be times in the future when the dog decides to try and change the rules of the game, but for now you can concentrate on encouraging and maintaining this happy state of affairs.
Common problems
If the pup does not return immediately with the dummy, do not worry.    Common reactions from a pup are:  dropping and picking up several times on the way back, running around the handler in a circle, dropping the dummy before reaching the handler, running off with the dummy, lying down and attempting to chew the dummy, playing with the dummy, tossing it into the air.  etc.[wp_ad_camp_1]Don't worry about the dog fumbling with the dummy, dropping and picking it up a few times on the way back is often simply inexperience.
To reduce the chances of this, and of him running off with the dummy, once he has a grip on it, start backing away from him  – quickly if necessary  – to speed up his return.
A person moving away is irresistible to most pups and will soon have your dog returning to you.
Once he is focused on chasing you he will stop fumbling with the dummy.  Remember as the pup comes close crouch down low.   You may even need to lie down on the ground.  Few puppies can resist climbing on a person on the ground.
You won't have to do it forever.
The dog that really wants to possess the dummy will often try and take it to his bed.   Sitting in, or in the entrance to, the pup's bed or crate and throwing the dummy from there, makes it easy for him to get it right and learn that returning to you is a happy experience.
A retrieving corridor
Regular use of a retrieving corridor in the early days ensures nice returning habits are established from the beginning.  A retrieving corridor is simply a long narrow space down which you can throw a dummy so that the dog can be prevented from running around you on the return.   There should be nothing interesting at all in the corridor apart from you.
When he is very small you can encourage the puppy right in to you by sitting on the floor. Put your back up against a barrier.   Let him climb all over you before you throw the dummy and encourage him back as soon as he has picked up.  You may have a suitable hallway in your house
Otherwise a retrieving corridor can be set up in the garden or yard, using a wall or fence as one side, and a temporary barrier as the other.
The delivery
Once your puppy has arrived in front of you with his 'prize' let him enjoy it.   Try not to be in a hurry to snatch it from him.   Let him hold it while you stroke him gently and tell him calmly what a clever boy he is.   (There will be many opportunities, if you raise your pup in the home, to praise the 'hold' in this way.
Every time he picks anything up, he should receive clear approval and admiration from you.  No need to get him all excited, just calmly tell him how amazing he is to be carrying something.)
Encourage the puppy right into your body with the retrieve and take it very gently from him when he has held it for a short while.  If he drops the dummy before you can take it, don't worry.  Encourage him right in to you and praise him anyway.   The return is vital  – it is more important that he returns willingly to you, with or without the dummy as without a return there can be no retrieve.
We can encourage him to hold the dummy for longer periods later.   Once a basic retrieve has been established you will want to practice this with your puppy.
Rationing the retrieve
Throwing retrieve after retrieve for a young puppy is a quick way to 'mess up' and a very common mistake.   Pups, like small children, have a short attention span and consequently a very limited capacity for retrieving.  They quickly tire of it.
Your objective is to make retrieving the most 'prized' activity in your pups world, and the way to do that is by 'rationing'.  The old saying 'familiarity breeds contempt' saying is truer than ever where retrieving is concerned for a young dog.   Restrict the number of retrieves you throw for your puppy to three in any one session.
If he loses interest after two, further reduce it to two or even one.    Furthermore, you should restrict the number of days each week when you have a retrieving session to two or less.    This could mean you are only throwing two or three retrieves once or twice each week.   You may find this very hard to stick to.
Most of us just want to get on with the whole retrieving 'thing'.  After all, that is quite possibly why we got the dog in the first place!   However, prudence at this stage will pay great dividends later.
Moving out of the retrieving corridor
Once the puppy is retrieving to you in the retrieving corridor, you can try throwing the retrieves into an open space.  However it is best at this stage to place yourself in a narrow opening attractive to the puppy.  For example, you could throw the retrieve into your garden whilst sitting in a doorway through which the puppy is accustomed to going.
What we are doing here is giving the puppy the perception of having more freedom whilst still restricting his choices..   If at this point the pup still runs off with the dummy, and you have an otherwise good recall, you need to go back to the retrieving corridor for another couple of weeks.
Transition to the retrieving dummy
In order to establish the 'pick-up' you may have had to use a sock or similar item for your dog to retrieve.   If so, you need to now transfer your dog's enthusiasm for retrieving to standard canvas and plastic retrieving dummies.
This is often very simply accomplished by throwing several retrieves in a row, your 'new' dummy being thrown rapidly after the favourite object and in the middle of this sequence.  If the dog refuses to be tricked in this 'underhand' way, it is usually a simple matter to attach the favoured object to the dummy and gradually remove parts of it over a period of days until there is nothing left but the dummy.
With a sock, the dummy can actually be placed inside it.  If your pup has been retrieving a tennis ball, you can buy dummies made out of tennis ball fabric to make the transition.  Don't worry if he still refuses at first.  Store your dummies and the old object together so that they all take on each other's scent, and simply try again after a few days.
It will not be long before he picks it up. It is helpful to get him used to a variety of dummies, fabric and plastic to give you plenty of choice in future training sessions.   Do not attempt to 'steady' the dog  (make him wait before being sent for the retrieve) until he is retrieving dummies enthusiastically.
 The very keen retriever
Some pups are 'desperate' to retrieve from the very beginning.  They leave skid marks in the ground as they launch themselves after the dummy and return at the same breakneck speed as they go out, often bashing into you as they arrive.
If your pup is one of these 'hard chargers'    you can steady him up (teach him to wait) just as soon as you have taught him a reliable long duration sit (stay).  The instructions for teaching the stay, and for introducing steadiness can be found in The Gundog Club's training guide 'Passing Grade One.
Moving on
For information about progressing your retrieving skills or resolving difficulties,  check out the retrieving section for more articles.
This article is adapted from 'The Right Start'  available from The Gundog Club bookshop.
Note:  white or light coloured dummies are better for first retrieves than the orange one pictured!
If you enjoy my articles, you might like my new book: The Happy Puppy Handbook
 – a definitive guide to early puppy care and training.