[wp_ad_camp_2]The purpose of quartering is enable your dog to thoroughly and effectively search a piece of ground,  and to keep him within shotgun range so that anything he flushes can be shot.
Once you have taught your spaniel to quarter you can exercise him easily whilst keeping him under close control, so this is a useful skill even for pet spaniels to learn.
Teaching your dog to quarter is a lot of fun.   You will need a spaniel,  an open space without distractions or cover (a field, meadow or paddock is ideal) a whistle, and some running shoes!
During this process you will need to stop all free-running exercise in the countryside.  You want every ounce of energy poured into quartering and you want the dog to forget any bad habits he may have picked up such as hunting back and forth away from and towards you.
If you try to teach quartering one day,  and let him hunt all over the place the next,  you are doomed to failure.
Stay away from cover and keep your dog away from game until you have completed this stage in training,
Keeping it simple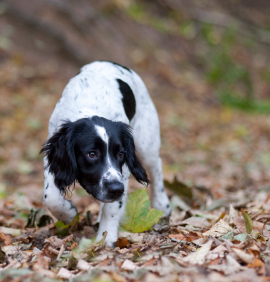 You will find books containing  all sorts of quartering patterns and different wind treatments. 
You can learn how to send your dog way out and then quarter him back towards you for example.
But unless you are seriously into advanced spaniel work,  you will probably be quite  content with a dog that simply hunts from side to side in front of you.
No matter what direction you travel in.
Wind direction
The reason for all the fancy variations of quartering is that a dog naturally works the wind.  He turns into the wind because that is where the scent comes from.  And of course many times when you are walking forwards whilst shooting over your dog,  the wind will not be in your face or his.   And this can affect his pattern.
For this reason,  all early lessons should be carried with your general direction of travel being into the wind.  This establishes the right  habit,  which you will then be able to enforce even when the wind is not in your favour.
Can retrievers be taught to quarter
Retrievers can certainly be taught to quarter though they are unlikely to do so with the speed and enthusiasm of a working bred spaniel.  That said,  if you want to rough shoot over  your Labrador there is no reason why you should not have a go at teaching him to quarter.
I have had some success in this respect but find that labs lose 'pace' quite rapidly unless there is a lot of game about. Whereas a good working spaniel will keep hunting hard even when game and scent is scarce.
Pace matters because the dog has to cover many yards for every step you take forwards.  And rough shooting over a slow moving dog is about as interesting as watching paint dry.
Method
Picture the field you are standing in with a big arrow pointing into the wind.  If you are not sure how to work out wind direction take a little bag of flour with you and sprinkle it from your fingers.  Watch the way it drifts.
Now whilst your overall path will be in the direction of the arrow with the wind in your face, you will actually be running from side to side across it.  So that the wind will first be on one side of your face,  then as you turn round it will be on the other.
You will be zig-zagging all the way down the field.  Your dog will love this.
Exaggerate
Set off with huge exaggeration running across the wind. Do whatever it takes to get the dog's interest. Whoop, clap your hands,  whatever.   Run fast and get the dog racing after you.
Let him overshoot you and whilst he is travelling on a few yards or so about turn and start running the other way. Look over your shoulder and make sure he has spotted you.  He probably will have.  If not, start whooping and clapping again to attract his attention.  As he shoots past you, about turn and go the other way again.
Carry on like this zig-zagging along with the dog travelling a bit further than you do in each direction.
Stop whilst his speed is still high
How long you should keep this up for depends on your dog (and on how fit you are).   Whilst the dog is fresh he will fly on past you in each direction,  some dogs can keep this up for ages,  others lose pace more rapidly.
Some dogs will slow very quickly and start trotting along at your heels.   The object is to stop before this happens,  and you will have to play this by ear.
Essentially you are trying to build the habit of the dog pushing on past you in either direction with enthusiasm, and you must stop before this enthusiasm wanes.
Good scenting conditions
One way of prolonging the dog's enthusiasm is by practicing on ground with a good amount of scent. A field that rabbits regularly visit at night is a good bet,  and scenting conditions tend to be better in moderate weather.  So avoid extremely hot,  very wet, or extremely cold days if you can.
Practice as often as you can in as good conditions as you can find.  Three or four sessions a week is the minimum at this early stage to get the right habit established
Introduce the whistle
Towards the end of the first week,  once you have got your dog into the habit of hunting on past you,  and turning after you turn,  you can introduce the turn whistle.   The standard turn signal is two short pips  'pip-pip'  on the whistle
Try to blow the whistle as the dog turns  so that he comes to associate the act of turning with the sound of the whistle.
Keep practicing when your dog is fresh and full of beans!
Reduce your range
The next step in this process is for you to reduce the distance you travel.   You don't want to be running from side to side forever.   The ultimate objective is to be walking forward whilst your dog does the work of quartering.  But you will need to reduce your range gradually.
How quickly you can do this depends somewhat on your dog.   Start to run a shorter distance each way and watch your dog.   Does he keep up his pace or is he turning to follow you too quickly.   Remember that you don't need him to cover huge distances.  A spaniel should be no more than twenty yards from you,  and ten to fifteen yards is good.  He will soon try to cover  more ground when he  gets on to game.
Take it slowly and gradually reduce your own range whilst keeping him working from side to side.
Pulling forward
If you dog is taking in too much ground in a forwards direction as he turns,  you will need to call him in towards you as he passes across you.   Some trainers even make the dog touch their hand at this stage,  to maintain contact.
Crossing behind
Some dogs will try and cross behind you instead of in front.  You need to discourage this.  Taking a step back to make sure the dog passes in front may be necessary occasionally.  Check the wind,  the dog is less likely to do this if you are facing the right way into the wind.
Using the whistle
As you reduce your own range further you will need to use the turn whistle to keep the dog within range.   He does not have the added incentive of watching you run away from him  so use the whistle to let him know when you want him to turn.  You will find that a lot of the time he will turn naturally and of his own accord.  This is great.
You don't want to be blowing whistles all the time once you are working on game,  so try and gradually reduce your use of the whistle as the dog gets more practiced
Arm signals
As you reduce your own zig-zags still further,  and once you are at the point where you are just taking a couple of steps in either direction to set the dog hunting the other way,  you should include a strong arm signal to the dog indicating the direction he is travelling in as he passes across you.   Sweep your arm out dramatically as he travels towards you and in the direction he is going.
The next stage is for you to stop turning altogether and keep walking forwards.  The only indication you give your dog is the arm signal. Sweep your arm out to the side as he crosses.
You will find that with a little practice you will soon be able to walk slowly forward and set the dog hunting in either direction using this arm signal.   And as time goes on you will be able to make the arm signal more discrete for that 'professional' look.
Before you know it your dog will be quartering with the minimum of instruction from you  and you are ready for some real hunting in cover.
If you enjoy my articles, you might like my new book: The Happy Puppy Handbook
 – a definitive guide to early puppy care and training.