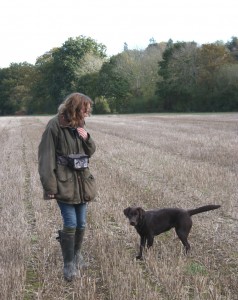 Until recently I have been recording my young Labrador pup's progress on her own blog: Rachael's Journey.
I have now decided to merge Rachael's Journey with this blog.  So from today I am going to record Rachael's exploits here on this site.
First of all,  a bit of background.
Rachael
Rachael is six months old,  and she is a chocolate Labrador of mixed field and show breeding.   You can find out in My Chocolate Adventure  why I decided to bring a part-show dog into my working kennels.   And you can use the following link to read the start of Rachael's Journey .
The story so far
What I have done with Rachael so far is very basic.[wp_ad_camp_1]She walks to heel for short distances,  on and off lead (with no real distractions).  
She comes to the recall whistle,  without distractions.  
And she sits and stays (just a few seconds) and fetches a dummy which she spits out.  
She also goes into her crate on command,  and has learned not to make a noise.
And that's about it.
As you can see just some bare foundations have been laid.   Nothing more.
Plenty of time
I now need to consolidate Rachael's basic obedience and proof it against distractions.   And to begin working on her 'gundog skills'.
I am not in any hurry as Rachael is too young to come out picking up this year,  so I have all next summer to  get her ready for her first shooting season.
My next goals are:
Proof the recall
Proof the heel
Begin the 'stay'
Deliver the dummy to hand
All quite straightforward but no doubt there will be a few challenges and surprises for me along the way!
I'll let you know how I get on.
If you enjoy my articles, you might like my new book: The Happy Puppy Handbook
 – a definitive guide to early puppy care and training.