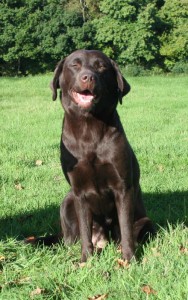 It is time to take the plunge, and get Rachael picking up game.
She probably won't be picking up on the shoot until after Christmas, her role until then will be to observe.
But I want her to have had some practice carrying and delivering game before she is in a field situation.
We had our first shoot on Wednesday and I saved a nice clean hen bird for Rachael to practice on.
Starting in the kitchen
Most dogs are a little reluctant to pick up a bird at the first attempt.
I did not think this would apply to Rachael
My concern with Rachael, considering her history of being possessive over the dummy,  was that she might grab at the bird and would want to keep it for herself.
I normally introduce game outdoors in my training field.
But bearing in mind what I thought might happen, I decided on a different approach with Rachael.
Hold
Rachael has been taught to take and 'hold' a dummy that is held out to her,  so I decided to offer her a pheasant in the same way,  in my kitchen where I have more control over the outcome.[wp_ad_camp_1]I did this yesterday.  I held out a canvas dummy and asked her to hold.  Then took if from her with my 'dead' cue.
I repeated this twice more and then did exactly the same with the pheasant.   My concerns were misplaced.  Rachael made no attempt to grab it,  just sniffed it carefully.
I was happy with this very normal reaction, as it is often easier to overcome any reluctance to pick up a bird,  than it is to deal with a dog that wants it so much that it won't let go.
I put the bird away and we did a few more holds with the dummy.
Moving outdoors
Today,  out in the field,  I sent Rachael for a couple of simple marks,  then threw the hen bird and sent her after a very short pause.
She galloped out and sniffed it suspiciously, which is all very normal,  she took hold of a leg and then let go.
Then, as her head went down for another sniff I said 'Good'  and without further hesitation, she picked up the bird very carefully in the centre of the body,  and delivered it perfectly and very gently to hand.
I took the pheasant, gave Rachael some lovely roast chicken, and then let her have a few more dummy retrieves to finish up.
A perfect end
It was a perfect end to this morning's training session.  I was tempted to do another longer retrieve of the bird,  mainly to give me chance to take a photo,  but decided that there was too much risk of messing up, especially if I am fiddling about with the camera rather than concentrating on the dog.
So that photo will have to wait a while.
I drove home feeling very pleased with this morning's session.
No matter how many dogs you train, and even in this very structured kind of situation,  it is always a lovely feeling to see a youngster bring in her first game bird.   Tail wagging, head high and proud,  doing what so many generations of dogs have done before her, and on the brink of a new life as a working dog.
There is nothing to beat it.
If you enjoy my articles, you might like my new book: The Happy Puppy Handbook
 – a definitive guide to early puppy care and training.