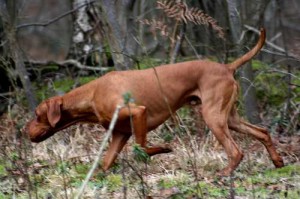 In the UK,  rough shooting is a term used to cover a range of informal shooting activities.
The objective is usually a bird or rabbit for the pot,  and a splendid walk in the countryside.
Unlike a driven shoot,  the 'guns'  are walking and there are no 'beaters'  to flush their quarry for them.
One or more gundogs is usually employed to both flush and retrieve the game.   In the USA this kind of hunting is usually referred to as 'upland'.
Rough shooting can be a solitary activity –  just one man and his dog,  or a social group activity  and quarry species will vary depending on the location.   The 'bag' in the UK is likely to include a rabbit or two, some woodpigeon,  and perhaps a few game birds.
Spaniels rule
Some of the most popular roughshooting dogs in the UK are spaniels,  bred for hunting and flushing game from cover.[wp_ad_camp_1]Roughshooting is a perfect role for a springer or cocker and it is a joy to watch these little dogs work,  flashing about in front of the guns,  pushing through brambles and thorns in their enthusiasm for the job.
Perhaps best suited for more open country,  HPRs in general (and in my area Viszlas in particular) are becoming increasingly popular as a roughshooter's dog.
These versatile gundogs not only hunt and flush, but point too,  giving the hunter a chance to ready himself for the shot.
You do need to be relatively fit to participate in  rough shooting,  and it is a great way to keep yourself and your dog in shape, and your freezer stocked with delicious healthy meat.
We will be looking at how you can get involved in rough shooting in another article,  so check back soon.
If you enjoyed this article you may like to read  'driven shooting in the UK'
If you enjoy my articles, you might like my new book: The Happy Puppy Handbook
 – a definitive guide to early puppy care and training.