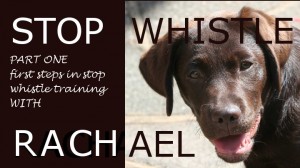 There are many different ways to teach the stop whistle.
And not a little controversy about which methods are best!
This article contains a video of the first steps in my preferred method.
It is worth pointing out that some gundog trainers still teach the stop whistle using the 'challenge' method.
The challenge method
This simply means that the dog is  taught the basic whistle command, and then 'challenged to disobey'  by using the command in a situation where the dog is quite likely fail.
When he disobeys, by moving from the sit, he is then punished.[wp_ad_camp_1]Usually by being dragged back to the point where he was instructed to sit.  
He finds this unpleasant and eventually learns not to disobey in the future.
When I first started gundog training around 35 years ago, that was how pretty much all spaniel trainers taught the stop whistle.   Including me.
The positive reinforcement method
Nowadays, some of us are using a different approach.  And that is what you will see in the video below.
This is the method described in the series on this blog.
I hope you find it helpful.
You'll notice I use food quite a lot at this stage.  I find this gets me a nice sharp sit.  Later on,  the retrieve becomes the reward.
More Information
If you enjoy my articles, you might like my new book: The Happy Puppy Handbook
 – a definitive guide to early puppy care and training.