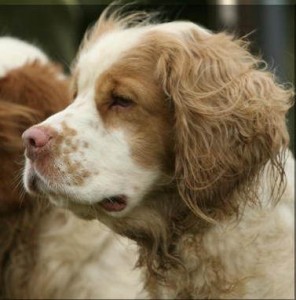 The working Clumber Spaniel is a decidedly different animal from it's hefty and rather lumbering show cousins.
There has been a real 'come-back' in recent years of these splendid working dogs.
Largely thanks to the dedication of enthusiasts like Debbie and John Zurick of Sedgehurst Clumbers.
Clumber Spaniels are now being  bred with genuine hunting and retrieving ability.   Careful breeding has produced a spaniel that has the tighter eyes needed to cope with working in cover, much improved hips,  and an excellent trainable temperament.
History
Clumber Spaniels have been involved in shooting in Britain for more than 200 years.  The breed's name is derived from Clumber Park.  Sent there apparently by a condemned french aristocrat.  Check out Debbie Zurick's article on the Gundog Club website for more information.
Their decline in popularity led the Clumber to become vulnerable,  but the efforts of working Clumber enthusiasts in recent years has given the breed a future.
Appearance
Clumber spaniels are the biggest of all spaniels, long with a heavier body build. Weighing in at between 45 and 65lbs, with males being the heavier,  these are solid dogs but should never be fat or clumsy in appearance.
More information
The Working Clumber society have an informative website with plenty of  information about the breed and links to  breeders and trainers.   If you are looking for an unusual and interesting breed of spaniel to join you in the shooting field,  this is an excellent place to start.
If you enjoy my articles, you might like my new book: The Happy Puppy Handbook
 – a definitive guide to early puppy care and training.
Photograph of working Clumber by kind permission of Debbie Zurick