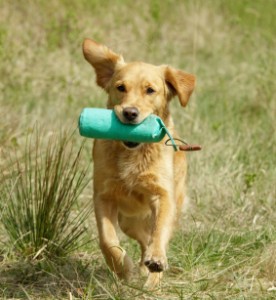 Golden retrievers are considered very trainable, and tend to be playful and intelligent.
Goldies have a reputation for being great with kids, and are a popular choice of family pet.
They are no less useful in the field. Their acute sense of smell, and keenness to please makes them amiable shooting companions.
Changes in the breed
I spent much of my early teens in the company of a the Golden Retriever pictured below.  He was a rich dark russet gold with a lightly feathered wavy coat.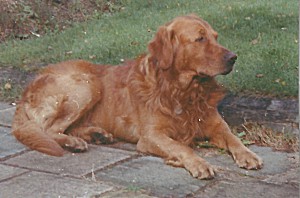 He came from the Sharland Kennels whose dogs were dual purpose,  both shown and shot over in the field.
His father was CH Sharland the Scott  you can see an image of Scot in the link,  taken sometime in the 1960s.
These dogs bore little resemblance to the pale cream, long haired powder puffs often found in today's show rings.
Purpose
Golden retrievers are gundogs bred to retrieve game in waterlogged environments.  Their dense undercoat provides excellent resistance to cold and is neatly covered with a wavy waterproof overcoat.
Sadly the breed has become very divided, with working strains retaining their ability in the field and still looking much like the beautiful dual purpose dogs of my childhood.
The show fraternity on the other hand,  for reasons best known to themselves,  has seen fit to increase the size of the dogs and the length of coat,  and to dilute the rich colour of these lovely animals.  And I know of no kennels that now shows and trials their goldens.
Please let me know if I am misinformed.  I would be delighted to update this article accordingly
Rob Roy
My childhood friend was named Rob Roy and together we explored the local woods and heathland.  Often returning home as dark was settling in.  What freedoms children had in those days.
Rob died in my mother's arms with his head on my lap, just before my 18th birthday.  He had cancer, which can be a problem in this breed, and was helped on his way by our kindly vet.   He is very fondly remembered.
Modern working golden retrievers
Happily there are now several thriving kennels breeding the traditional working type of Golden Retriever.  Kennels like Canburne in Devon.    If you are prepared to do your research and maybe travel a little further,  a working pup can be purchased and will make a splendid and somewhat unusual shooting companion.
As with any breed of gundog,  it pays to pick a reputable breeder who is aware of health issues in their breed and is working to improve the health of their lines.   Asking about cancer is important and a good breeder will not shy away from discussing this issue, and how it affects their own breeding strategies.
FTCH Marcus Maybe
In 2006 to the delight of the working golden community,  FTCH  Marcus Maybe of Wadesmill,  a stunning five year old golden retriever, won the prestigious International Gundog League championship.  The first golden to do so since the 1980s.
Hopefully another golden will soon follow in his footsteps.  It would be great to see more of these handsome and hard working gundogs on shoots up and down the country.
How about you?
Do you have a working golden?  I'd love to hear about him (or her).  Please feel free to comment below
If you enjoy my articles, you might like my new book: The Happy Puppy Handbook
 – a definitive guide to early puppy care and training.