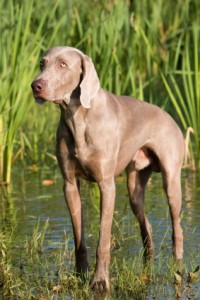 The Weimaraner is a poised, athletic looking dog.
Not found as frequently on shoots as the German Shorthaired Pointer and the Hungarian Vizsla,  this is nevertheless a competent HPR gundog breed.
History
Records of dogs very similar to the Weimaraner have been traced back to the 13th century.
Some people believe they are an ancestor of the bloodhound.
Rather like the Hungarian Vizsla, the Weimaraner was reserved for the land owning aristocracy, aiming to breed a dependable dog with a noble appearance.
Unusually for that period the Weimaraner lived with the family, when most dogs were kept in kennels in packs.
Appearance
The Weimaraner has an immediately recognisable appearance, with a distinctive smooth grey coat and a proud posture.
These are substantial dogs with a height (at withers) of 22 to 27 inches.  Bitches at the smaller end of the range.  There is a long haired variety with a feathered tail, and a variety with a black coat, however these are uncommon.
Until the recent change in the law regarding tail docking,  Weimaraners were a docked breed.   Now that only working lines can be docked in the UK almost all newborn Weimaraners will have their tails left on.
At work
Weimaraners are energetic dogs with a reputation for being generally good tempered and can make nice pets for an active family.  Though eminently trainable,  few Weimaraners are currently worked in the UK.
If you are interested in working your Weimaraner then you will probably enjoy this blog:  Galody   which follows the gundog training exploits of a Weimaraner and Slovakian Shorthaired Pointer.
And if you have any doubts about the trainability or potential of a Weimaraner, check out the achievements of Twiggy.   Owned and trained by working trial judge Alison Tohme,  Twiggy is a long haired Weimaraner,  and has distinguished herself in working trials,  schutzhund and much more.  She is probably the most titled dog in the UK!
Your Weimaraner?
How about your Weimaraner?  Do you work him or her on a shoot?  Share your thoughts on Weimaraners as working dogs  in the comments box
If you enjoy my articles, you might like my new book: The Happy Puppy Handbook
 – a definitive guide to early puppy care and training.