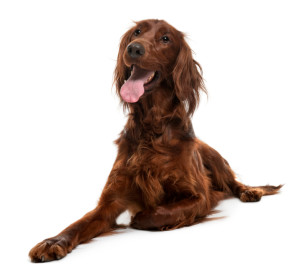 This post is part of a series of articles on clicker training for gundogs.  
In this post I am taking a look at who is clicker training their dogs and why so few gundog trainers are using clicker techniques at the moment.
Clicker trainers succeed in several competitive dog sports
Clicker training is popular in ring sports such as obedience, heelwork to music,  and agility.   There are also clicker-trained dogs doing well in working trials in the UK.  Do let me know if your dog has reached a high standard in another discipline using positive-only techniques, so that I can keep this information up to date.
Pet dog training
Positive-only training of pet dogs is now very well established with many local classes using clicker or similar techniques.   The change over the  last few years has been quite dramatic with members of internet pet dog forums now commonly advocating positive-only techniques.
Clicker training is used for exotic animals
Animals who do not  respond to corrections or which are inaccessible during training (marine mammals for example) are often trained using clicker techniques. Indeed this is where these techniques were first used outside of the laboratory.  Complex chains of behaviour can be clicker trained and many animal 'stunts' seen in films and advertisements are trained this way
Clicker trainers are absent from gundog awards
Whilst there are a few gundog trainers now using clicker techniques there are, as far as we are aware,  currently no Field Trial Champions or Field Trial winners in the UK trained purely by positive-only means.  The situation is the same in the USA at the present time. Do please contact me if you have been successful in a Field Trial with a positive-only trained dog  so that I can update this article accordingly.
Why is clicker training not more popular with gundog trainers?
There is great debate as to why clicker training is not yet more popular in the gundog world,  and a number of theories as to why this might be so.  Some clicker trainers feel gundog trainers are entrenched in their ways and reluctant to try new techniques.  Others point out that clicker training has only really come into its own in the last fifteen years or so.[wp_ad_camp_1]Many gundog trainers for their part will point out the complete lack of clicker trained dogs at upper levels of fieldwork.
Despite their achievements in more controlled environments.
They will also point to the very demanding and unpredictable outdoor environment within which a gundog must work.
They see this as a serious challenge to positive-only training which relies strongly on being able to control the consequences of the dog's behaviour.
It seems unlikely that the absence of clicker trained dogs at high levels of gundog work is purely down to the intransigence of gundog trainers,  and probable that the nature of gundog work plays a significant factor.
To find out more about clicker training for gundogs read our 'introduction'  to this series.
If you enjoy my articles, you might like my new book: The Happy Puppy Handbook
 – a definitive guide to early puppy care and training.