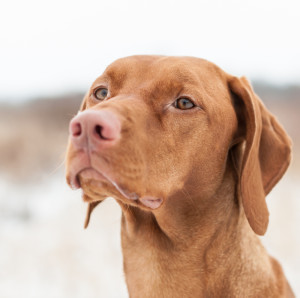 Most modern dog trainers use food in training.
Yet the antipathy towards the use of food in gundog training circles persists.
This article is about busting some of the myths that surround the use of food for training working gundogs.
And there are plenty of them.
What people say
Many gundog trainers are still confused between the use of edible rewards to create a trained response, and the use of food as a bribe.
This comment was posted on my gundog Facebook page a while back
"(Treats are) a pain in the backside if you forget them and thats the only reason a dog will respond to you."
And this on a forum recently
"When they (treat trainers) run out of cheese, they run out of ideas."[wp_ad_camp_1]Both these comment clearly show that the use of edible rewards is still misunderstood and viewed with some scorn.
The reasons for this are not straightforward, and there are complex issues at stake.  But a significant factor is a group of widely held and totally inaccurate beliefs
Widely held beliefs
Some of the myths that exist around the use of food in training are not difficult to disprove, yet they still persist in doing the rounds of forums and Facebook groups.
Here are a few
Using food in training causes dogs to spit out the retrieve
Using food in training makes dogs fat
If you use food in training the dog won't obey when you don't have food
Hunting dog won't take food/can't be trained with food
Food during exercise makes dogs bloat
Behaviours trained with food are less reliable
If you see someone trotting out this kind of misinformation, do feel free to point them towards the following information!
1. Spitting the retrieve
It has long been thought that dogs rewarded with food for retrieving will spit out the retrieve in order to eat the food.
This myth has arisen because people training their dogs have simply offered food at the wrong point in the retrieve chain. i.e. before the delivery is complete
A retrieve ends, or should end, with the delivery (on the handler's cue) of the bird or rabbit, into the handlers hand. Not before.  If you reward your dog for delivering the bird, and not for dropping it, he will put the bird in your hand. If you reward the dog for dropping it, he will drop it.
Teaching a delivery with food resolves a myriad of common retrieving problems, including keep away, and poor or sloppy delivery and completely avoids dogs being 'washed out' of a training programme for faults in the retrieving process.
You can read more about it here  The trained retrieve
These benefits far outweigh any inconvenience to the handler in terms of the time spent learning the clicker trained retrieve techniques.
2. Making dogs fat
A few weeks ago, I went to help a friend choose a cocker pup from a litter of six.
The owner of the bitch was keen to ensure that my friend understood the dangers of this terrible fad for using food in training.
"Whatever you do, avoid treats" he said, with some contempt, the implication being that some dire fate would befall the puppy if trained using food.    And he added as an afterthought "they'll make your dog fat".
My friend and I were very restrained, and just smiled.  But this is not an isolated example.
I won't insult your intelligence by pointing out that training with food won't make your dog fat if you deduct that food from his daily ration!  But this is a frustratingly common view.
Also common are concerns over the quality of treats fed.  Which is of course entirely within your control.
There is no reason at all to give dogs sugary treats, or any kind of food in training that you would not be happy to feed a dog as part of his meal.  Treat does not equal Sweet.
3. No food, no chance!
Then we have the view that users of food will be stranded like a driver without his car keys, if they should forget their treat bag and its contents.
This myth arises because food is mistakenly seen as a management tool, rather than a training tool.  Traditional trainers think for some reason that those using food in training are waving bits of chicken at our dogs in order to get them to return.
I look in some detail on the confusion over food as a management tool in this article: What to do when food doesn't work  but the important point here is that food is used to train the dog to respond to your cues (whistle, signal and voice)
The trained response is not dependent on the presence, sight, or smell of the food.  The food is provided as a reward after the response has been completed. Not offered in advance as a bribe.
Most of us fade our food rewards once the response is reliable, so that the dog is rewarded sometimes and without knowing when the rewards will come.
So if you forget your treats occasionally, the dog will still respond to your cues.
The other key point is that food is not the most significant reward used as training progresses.  When gundog work advances, rewards will increasingly be opportunities to hunt and retrieve, just as in traditional training.
4. Hunting dogs can't be trained using food
This was one that I personally subscribed to.  The idea that when a hard hunting dog is faced with the prospect of an opportunity to hunt, it isn't capable of responding to food.
I used to amuse myself showing friends who used food, what happened when you gave a treat to my cocker Meg outdoors.
She would very politely take the treat from my hand and then let it roll gently from her mouth on to the ground. She was not capable of swallowing food when there was hunting to be had.
This, I proudly claimed, proved that she could not be trained using food.
But of course I had missed the point entirely.   You don't introduce a new concept (such as food as a reward) to a dog in a highly distracting environment where she is expecting opportunities to hunt or retrieve.  Both of which are of much higher value than food to a working spaniel.
You introduce new concepts in a low distraction environment first.  Dogs need to learn how to work for food.
And in any case, as explained above, food rewards are often not relevant in the field.
At eleven years old, Meg now receives food rewards alongside my other dogs and happily eats them.  Including for the retrieve and despite not having been clicker trained to retrieve.
If I want to, I can feed her treats in the middle of a driven day with birds falling around her, and she not only takes the treat but swallows it.
5. Food during exercise makes dogs bloat
Another one that came up recently on our Facebook group is the suggestion that using food in training puts dogs at risk of bloat.
Now there is certainly a view that feeding a dog a large meal before exercising, is not a good thing.  But training treats are tiny.
Even if a dog has twenty tiny morsels of food in his belly, the total quantity would be small.
A far more common risk in spaniels undertaking heavy exercise is collapse due to low blood sugar.  Feeding small quantities of food throughout the day will help to avoid this happening.
6. Behaviours trained with food are less reliable
This is perhaps the most widely held piece of misinformation around food use. The idea that training based on food is not reliable.  That if you train with treats, your training will not hold up when you are working around distractions or in more challenging environments.
Fortunately some recent studies have put this argument to bed.  Dogs trained using positive reinforcement – i.e. with food rewards rather than with punishment – are more obedient not less, than dogs trained using punitive methods.
Moreover,  studies show that behaviours trained with either approach do not hold up if consequences are not regularly applied.
This means if you train with rewards, you need to keep using rewards from time to time or your behaviours will break down.
It also means that if you train with punishment, you will need to apply punishment again from time to time or your behaviours will break down.
If you think you can just train a dog and then forget all about consequences you are kidding yourself.  Maintaining behaviours is much easier than establishing and proofing them, but it still has to be done.  Forever.
Which would you rather be doing for the rest of your dog's life?  Punishing from time to time?  Or rewarding?
The way things are
Many, many gundog trainers agree, in principle, that training using rewards to reinforce good behaviours, is theoretically preferable to training using corrections to punish bad behaviours.
Gundog trainers are not horrible people!  They want to be nice to their dogs.
Yet many seem unaware that reliable behaviours can be achieved without the use of corrections.
Comments like "if you are happy to beg and plead with your dog" are common. These trainers believe that training with food rewards doesn't work, therefore favour what they consider to be a balanced approach to training. Part reward, part punishment.  Yet studies have shown that including the use of punishment reduces obedience, even when the dog is being rewarded for getting it right.
In addition, almost all gundog trainers consider that praise or approval, is as valuable to a dog as food.
Sadly, studies have shown that this is simply not the case.  Check out this article  How positive training works and this one The evidence for positive reinforcement training for more information and evidence.
Studies do not support the belief that training cannot be achieved without corrections.  Nor does the experience of the many trainers that have crossed over from using approval only, to using edible rewards.  We'll look further at the evidence below.
Spoilt dogs
Some of the comments on my positive gun dogs group highlight another misconception about training with food.  Many traditional trainers are confusing the words 'positive' with 'permissive'
They seem to believe that trainers using food are happy to accept a lower standard of training, or to let dogs get away with bad behaviour.  I've written more extensively about that here: Positive does not mean Permissive
In other words they believe that a dog trained using food is likely to be a spoilt dog.
This is nothing new.  All these beliefs were once widely held in the dog training community at large.  They were once shared by military and service dog professionals, by agility and obedience trainers, and by those training dogs for search and rescue, drug detection and many other purposes.
That has all changed.
The truth about food in training
The truth is that it is possible to train dogs to reliably respond to cues (commands/signals) with a high degree of reliability, without using any corrections at all.
This is not my opinion,  it is well proven and recognised in just about every dog sport and discipline throughout the world, with the exception of the gundog community.
The truth is that trainers using edible rewards are training dogs to respond to a specific cue (signal) with a specific behaviour.   Just like trainers using traditional methods.  It is as simple as that.
We share the same goal and the same fundamental process of manipulating a dog's behaviour via the application of consequences.  Where we differ, is in the type of consequences that we apply to the dog.
The truth is that these modern methods are so successful that they have been adopted by the military, the police, drug detection units, guide dogs for the blind and many other service dog organisations.
The USA Guide Dogs Association improved it's pass rate from 50% to 70% when it switched from traditional to modern methods.
Why we need food in training
Most of you will know that this process of training using rewards to reinforce behaviours, rather than aversives to punish behaviours, is called positive reinforcement training  and the principles of positive reinforcement training are explained here in this article. What is positive reinforcement training
In order to train a dog using positive reinforcement, and without punishment, you need to provide the dog with valuable (to the dog) rewards.  And to prevent the dog from rewarding himself for undesirable behaviours,  which is always a good strategy with any training approach.
Most gundogs have a high preference for instinctive behaviours, such as hunting and retrieving.  And opportunities to indulge in these behaviours make great rewards,  especially as training advances
However, in early training, the most rapid progress tends to be made with lots of repetition, it simply isn't practical to reward every 'sit' with a retrieve and every 'stay' with some hunting.  It is therefore ideal if we get puppies keen on working for food.
But what about praise?
People sometimes say to me –  "I prefer praise to food."
But what does your preference have to do with it?  The choice of reward when training any animal should be based on what the animal finds valuable, not what the trainer prefers!
The dog's preference is what will affect the speed and efficiency of your training.  The dog's preference is what will establish new behaviours more rapidly and allow you to train for longer, than using low value rewards.
Refusal to make use of this simple fact means slower training, or more often, more punishment.
And here is the final truth.
Virtually everyone that avoids food in training will need to use punishment to some degree.
Fewer rewards = more punishment
The less you effectively reinforce good behaviours, the more you will have to punish bad ones.
Dogs learn through the consequences of their behaviour.  If you won't reinforce the behaviours you desire with valuable rewards, you are going to get frustrated with your slow progress, and punishment will creep in.
Many modern gundog trainers try hard to avoid harsh punishment,  and they are aware that punishment is undesirable.
They often refer to mild punishment as corrections.  Which is fine, I use this term myself. But, it is important to recognise that corrections are still a form of punishment.  They work by providing a consequence which the dog finds aversive.
Our changing world
The world is changing,  and for many people, the concept of punishing dogs during training is no longer acceptable.
On an almost daily basis now, I read comments from people that will not risk taking their dog to a professional gundog trainer.  They do not want their dogs trained using punishment and in many cases they have been put off gundog fieldwork altogether by observing harsh treatment of a dog by a professional gundog trainer.
This is not good.
It is not good for dogs, and it is not good for our sport.  Gundog trainers are embarrassing themselves with their lack of behavioural knowledge and by their misunderstanding of widely used and effective training techniques.
It's time to catch up
No gundog trainer has to use food if they don't want to, but they should at least be properly informed of how food can be used in training.
They should be able to support students who wish to use food in training.  And should be aware of how positive reinforcement training works, of its benefits and challenges.  Just as they should be aware of the potential fall-out and challenges of using punishment.
The simple truth is, we in the gundog community are behind.  And it really is about time for us to catch up.
If you'd like to learn more about positive reinforcement training for gun dogs, why not join my Facebook group "Positive Gundogs"  or drop into my forum and introduce yourself and your dogs