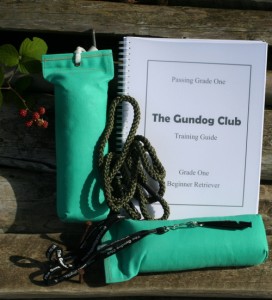 So you are ready to start training your new gundog!
What equipment do you need to get you started?
Whilst you can spend a lot of money on gundog training, the kit you need to get going on Grade One training is actually minimal.
A whistle
The first item on your list will be a gundog whistle.   I recommend an Acme 210.5,  or if you prefer, an Acme 211.5 which has a slightly lower pitch.
You can find out more on this page: Gundog whistles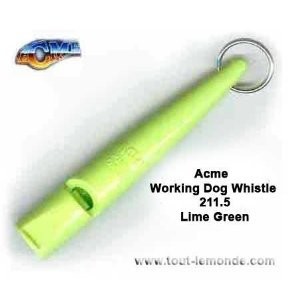 Acme whistles used to come in black.  But now you can buy them in a whole range of colours.
This Lime Green
one shows up quite nicely if you drop it on the ground.
Buy a lanyard too, to hang the whistle around your neck.
A retrieving dummy
Most traditional gundog trainers like to start young dogs off with a 1lb canvas dummy (or a half pound puppy dummy for spaniel pups)
You can find out more about dummies, and how to choose the right one,  on this page
There is a mountain of choice these days, but you only need a couple of dummies to get you started
A sliplead
A simple gundog slip lead is standard gundog training issue.  You can buy them online, at country shows, and in gunshops.
You'll also need a standard flat collar or harness if you need to use a long line.
What about a book?
A book is not essential, but it certainly helps to have all the information you need, in one place, in a format you can carry around.
If you enjoy my articles, you might also enjoy the training manuals I have written for the Gundog Club.  These are very detailed training guides. They are spiral bound, lie flat, and are aimed at beginners to gundog training.
Thousands of copies have been sold, in the UK and abroad.   You can purchase yours from the Gundog Club bookshop.
Adding to your collection
A whistle, lead, and dummy really is all you need to get started.  It shouldn't set you back too much, and country shows or game fairs are often good places to get a bargain.
Later on you'll want to add to your collection of dummies, and a dummy bag to put them in will come in handy. It will also double up as a game bag in the winter.
As training progresses there are lots of ways to empty your wallet on equipment, and we'll look at those in a later article!
If you enjoy my articles, you might like my new book: The Happy Puppy Handbook
 – a definitive guide to early puppy care and training.