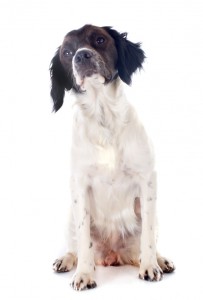 This article is about the behaviours that underpin gundog fieldwork
These basic behaviours need to be in place so that we can build more complex and advanced behaviours on top of them.
We can divide our foundation skills into three broad categories.  And you can find articles about each by following the links
The objective of these three articles is to give you an idea of how these behaviours are formed, driven and developed.  And what their purpose is.  So that you can understand why and how you need to nurture them in your own dog.
These are not training exercises or instructions, but an important overview of what is involved when you teach develop a dog's natural retrieve, bring out his hunting instincts, and build important controls into his behaviour
Genes and Training
The establishment of these foundation behaviours is achieved through a combination of natural instincts and training.
Without understanding these foundation behaviours fully, it can be easy to inadvertently damage them.[wp_ad_camp_1]Hunting and retrieving instincts for example are strong in some dogs, and weaker in others. 
Some spaniels may need more free hunting to get their confidence up before having a tight pattern and discipline imposed on them. 
Others (many others) need taking in hand at an early age to stop them getting out of control.
If we understand this, and can recognise the nature of the dog in our care, we stand a great chance of success.  Reading the articles above and the resources that they link to, will help you.
Purpose
Some aspects of gundog training may seem pointless to the uninitiated.
What does it matter if a dog chases a bird as soon as is falls from the sky?   Or if we throw balls for a puppy to fetch until he gets tired. Why should does a gun dog need to be discouraged from making a noise,  and why should a spaniel not run free on family walks?
Once we understand the purpose of establishing foundation behaviours and then imposing some controls over them,  the training programme we need to work through make a lot more sense.
Balance
Some behaviours have to be carefully balanced against others. For example – marking and steadiness
Marking simply means watching a falling item and remembering where it landed.  Many retrievers have a natural talent for marking but all dogs can have their marking ability improved with practice.
However, marking practice can directly interfere with steadiness.  The dog that is given too many marks in succession may become over-excited or start 'running-in'  So a balance needs to be maintained.
Knowledge
Again, knowledge and understanding is the key.   Experience is good, but most of you will only have a small number of dogs pass through your hands in a lifetime.
You simply cannot become experienced in every aspect of gun dog behaviour by yourself.  Reading and learning from others is essential.
Understand your dog, the way he is put together, what drives him, motivates him, and you will be able to get the foundations of gun dog behaviour firmly established in an enjoyable and positive way
If you enjoy my  articles, you may enjoy my new book: The Happy Puppy Handbook
– a definitive guide to early puppy care and training.