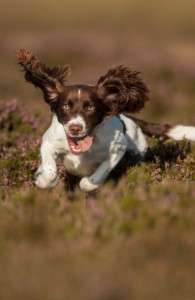 A dog's willingness to hunt, is based on several factors
His inherited 'drive' to hunt
His confidence
His independence
You can influence your dog's confidence by exposing him to lots of opportunities to hunt and explore as a puppy.
Providing he does not have any upsetting experiences whilst hunting, this confidence will also increase as he becomes more mature and independent.
Finding a balance
Many working bred gundogs have extremely powerful hunting and chasing instincts.[wp_ad_camp_1]Combined with over confidence and over independence these can result in a loss of control for novice owners. So, it is important to keep a balance.
A dog with a lot of drive will need less exposure to opportunities to hunt and explore confidently, than a dog that lacks drive or confidence.
Your partner
We don't want our gundog puppy hunting 'out of control' and learning to chase game and hunt for himself.
We want him to be your hunting partner,  not a self-employed, independent hunter
Finding this balance can be tricky,  as you will discover if you allow a very keen hunting puppy too much independence.
There is much debate in gundog circles about this balance, but as someone that has run a helpline for gundog owners,  I can only emphasise that there are far more people out there that have two much 'hunt' in their dog,  than too little.
You can read more about this issue in my series "The Trouble with Springers"  listed below
There are some more articles on the website to help you establish the foundations of good hunting without losing control of your dog.  And some to help you regain control after you have lost it!
Articles related to hunting
More Information
If you enjoy my articles, you might like my new book: The Happy Puppy Handbook
 – a definitive guide to early puppy care and training.