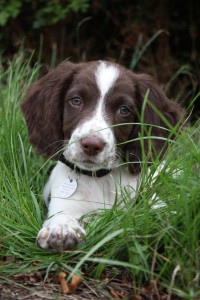 We all want our puppies to be bold and confident outdoors.
Fortunately with appropriate opportunities to explore outdoors as puppies, most working bred spaniels have both of these attributes in bucketfuls.
Much more common is the young spaniel that is not under control, not within range, and  quite possibly not within earshot.
'Follow my leader' is about establishing good habits for the future.  And about establishing the foundation of quartering and close range control for spaniel puppies.  So that you end up with a dog that is working both for you, and with you.
Start small
Tiny eight week old puppies want nothing more that to be close to you.
They totter along beneath your feet and do their best to trip you up.
This is the precious 'dependent' phase during which you have a golden opportunity to establish a very useful precedent.
Follow my leader
The precedent you need to establish is 'You lead,  and the dog follows'.
It seems obvious really but so many people end up doing it the other way around,  I know I did with first few dogs.  I would be trailing along behind them the whole time,  wondering why they weren't particularly interested in me.
Keeping them close was just such a battle.  But it needn't be like that
Why do people struggle?
Wherever you go,  your dog should follow.  Sounds simple enough,  but many people struggle with this and the reasons are twofold
They leave it too late
They walk in straight lines
Don't wait until your gundog puppy is seven months old to start training him. This advice is a relic from the days of 'dog breaking' when dogs were allowed to run wild and then brought back under control with some pretty harsh handling.
Good habits are best instilled from the beginning.
Start right from day one
Get your puppy following you from the moment you bring him home.  Every time you put him down outdoors, keep moving away from him a little.
Obviously you don't want to scare him,  or wear him out.  Just a few steps here or there is all that's necessary.  First one way then the other.
This is all great habit forming stuff,  and with your spaniel, it prepares him for the day when he is quartering neatly in front of you.
Be unpredictable
The main problem with taking a working spaniel puppy for family walks is that mostly consist of walking in one direction.   If you constantly walk in straight lines you become predictable.
The dog knows where you can be found and has no reason to worry about losing you.
He quickly falls into the habit of hunting away from you, and back again, pulling further ahead as he becomes more independent.
Focus on your puppy
Family walks can be counter productive especially with hunting breed puppies. Partly because on a typical family walk the puppy falls into this pattern of running out away from you instead of crossing from side to side close in front of you.
And partly because if you have family members with you, there's no way you are going to be sufficiently focused on the puppy.
I recommend you don't take a pup intended for gundog work for family walks, until you have established a good zone of control, taught him to quarter, and to walk at heel.
In other words until his training is well advanced.   I know that this is not what most spaniel owners want to hear but it is a change in mindset that transformed my own abilities as a spaniel handler and can do the same for you.
The Zone of control
As your spaniel puppy passes the five month mark he will start to become more independent and less reliant on your close presence to feel safe.
By this time, staying near to you needs to become a deeply ingrained habit so that it feels as natural to him as breathing.
Focus on creating a zone of control outside of which the puppy may not pass.
You can do this by creating an imaginary circle with you at its centre.   Every time your puppy approaches the perimeter of the circle,  attract his attention and draw him back towards you.
Make yourself fun
Use rewards to keep your puppy wanting to be near you.  Engage him in activities he enjoys.  A marked retrieve here, a little hunt for a tennis ball there.
Intersperse short periods of hunting and exploring nearby you with little training sessions.  A sit-stay, a little bit of heelwork.
Make sure the rewards you give your puppy are something he values highly.   The rewards you provide need to be his favourite thing,  not yours.   It could be a retrieve,  a piece of chicken or a big cuddle and fuss.   Whatever turns him on.
Keep changing direction, keep him guessing, and make a huge fuss of him each time he rushes after you. Make yourself the centre of his world and keep him firmly within your zone of control.
You might also find these articles helpful
More information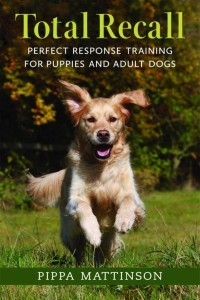 If you enjoy my articles you might like this book
Total Recall is a complete recall training programme for puppies and adult dogs
It's force free and fun.
It explains how dogs learn and how you can create a really reliable response to your recall whistle.
You can check it out here: Total Recall
This article was originally published in 2011 and has been extensively revised and updated for 2015