[wp_ad_camp_2]Avid readers of gundog training books will have noticed that many books advise that you should not start training your puppy until he is over six months old.
One commenter on this website mentioned Keith Erlandson's book 'Gundog Training'  published in 1976.
He notes that Keith includes a warning to never begin gundog training before six months of age,  and suggests eight months as the right time to begin.
This gundog owner was quite naturally worried that he may have started his own puppy off too young and done some harm in the process
Starting at eight months
Keith Erlandson was of course a brilliant gundog trainer and a good writer. I and many others learned a great deal from his books.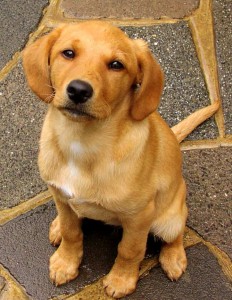 Like many of my contemporaries, I stuck to the practice of leaving my puppies untouched until around eight months of age right up until around ten years ago,  when I started experimenting with some aversive-free training techniques.
This article is about why I changed the age at which I start training puppies,  and why I believe it is ok for you to start training your young puppy too if you want to. With certain provisos.
Why did we leave it so late?
So what was the rationale behind leaving puppies to 'untrained' for the first few months of their lives? What did serious Gundog trainers hope to gain by this practice?
Well, there were a number of considerations.  But the main reasons were as follows
Building hunting drive
Building confidence
Building retrieve drive
It was thought that too much training would harm the development of these important qualities
Building hunting drive
Hunting game in order to flush rather than to retrieve is of course the spaniel's primary role,  and for many years it was believed that early discipline would inhibit a spaniel's will to hunt.
However, it is becoming increasingly clear that this is not such a great risk as was once thought. You can read more about this issue in this article:  Hunting versus heelwork for spaniels.
The article explains that provided your young gundog puppy is also given plenty of opportunity to explore and hunt in different types of terrain,  he is most unlikely to abandon hunting just because you teach him to walk to heel at five months old.
Building retrieve drive
Working strain gundogs have been bred for many generations with retrieving desire in mind and most working retrievers and spaniels come pre-packaged with some desire to chase and pick up a thrown or moving object.
But, this desire varies greatly in strength from one dog to another and is often vulnerable.
I think of retrieving desire as resembling a little flame.  Nurtured with tiny twigs and kindling it soon grows into a full grown blaze,  but throw a log on this little flame before it is a proper fire,  and the flame will be extinguished.
The concern of professional gundog trainers both in Keith Erlandson's time and today, is that too much repetitive retrieving practice with young puppies, especially too much steadiness, will snuff out the desire to retrieve.
And this is still a valid concern.
However,  it needn't stop you training your puppy at a young age,  provided that you arm yourself with the right information.
There are articles on this website about the importance of building retrieving desire carefully and not instilling steadiness too young.  You can find out more on this page:  Building and maintaining retrieving desire in your gundog
Building confidence
There is no doubt that gundog training methods have changed a lot since the 1970s.   And the manner in which dogs were trained and the techniques used, were really what lay at the heart of why training was delayed.
When I first began spaniel training thirty-five years ago,  slapping, scruff-shaking and worse,  were common practice.
This kind of treatment can really dent the confidence of a young puppy, making it cowed and fearful.
The training process was a tough one for the young dog.  Advice to hold off on this process until the puppy was mature, was sound.  Using a lot of physical punishment and intimidation  on a young puppy was quite rightly considered inappropriate.
And so puppies were not started on their training until they were considered mentally tough enough to be able to cope with the 'corrections' that were inherent in the process.
Changing methods in training
Over the last few decades, there have been some fundamental changes in attitudes towards dogs and in the techniques used by the mainstream dog training community today.
These changes have really accelerated in the last five years.  Not only are methods of dog training available which require fewer aversive, more trainers are becoming skilled in these methods.
These methods have not permeated deeply into the gundog community yet, but there is a great deal of interest in them and they are gradually becoming accepted. Especially among retriever trainers.
Fewer aversives means an earlier start
Training without corrections mean that we no longer have to worry about damaging a young dog's confidence by training at an early age.
On the contrary it is a good idea to do so as some of the proofing that needs to be done to get a high level of compliance from the dog in distracting situations can be more time consuming without the use of punishment.
Of course you will still need to take care to ensure that your dog is hunting and retrieving confidently, but that does not mean that you cannot get started with a range of obedience skills if you are teaching them without the use of aversives
Resistance to change
Many trainers are benefitting from an increasingly widespread understanding of how dogs learn,  and how to train using predominantly rewards rather than corrections.
Not all trainers have adopted these new methods.  And some old school trainers will still advise you to leave your puppy 'untouched' until he is older.  Such a trainer may well warn you that modern methods do not work (not true) or that they take a lot longer (some truth in that)
But many ordinary gundog owners are happy to take a bit longer over their training and to use less punishment. Especially if it means that they can get going on their training from the moment that they bring home their puppy.
And one of the key advantages of these more gentle techniques is that there is no real minimum age limit when training can or should begin, provided that care is taken to maintain a happy attitude in the puppy and to avoid crushing his drive to retrieve.
Just because you can
Of course just because you can,  does not necessarily mean you 'should'.  A three month old puppy can be taught all manner of skills.
But he is still a puppy and easily distracted.  Just because it is possible to do so, does not necessarily mean you should feel under any obligation to 'hot house' your puppy and cram 6 months of education into a few short weeks.  In fact, if you try, you'll probably come unstuck
Good training  is built on good  foundations and the puppy months are a great time to build those foundations.
You don't need a puppy that will sit and say for half an hour.  But a puppy that looks at you for fun and food (yes food!) and that spins around and gallops towards you on the peep of a whistle is worth his weight in gold
Puppies' attention span
Training should be age appropriate.  A three month old puppy may be able to sit in your kitchen for ten seconds,  but it will be a long time before she can sit quietly in a field whilst other dogs race around fetching dummies.
A puppy's attention span is very short and if you push on too fast (as can be the temptation  if you start very young) you will set your puppy up to fail.  Which would be a great shame.
Your situation is unique
What you decide to do with your puppy will depend on your personal circumstances.  I am guessing that Keith Erlandson did not have to walk the kids to school with a six month old spaniel in tow.   If your dog lives in the home with you, rather than in a kennel,  you are going to have to do a certain amount of training in order for your dog to fit into the rhythm of family life.
If your dogs are kennelled like my spaniels used to be,  then you don't have to worry so much about making a start in training because your dogs will not be influenced by other members of the family,  or by having to lead walk outside of training sessions.
If you want to 'trial' your spaniels then you need to pay serious attention to building and maintaining hunting drive and speed.  If you want to shoot over your retrievers or pick up with them,  then you will need to cherish and nurture that retrieving desire.   Go easy on the steadiness and don't introduce it until your puppy is retrieving with panache!
Teaching your puppy to sit,  and even to walk to heel at four or five months old,  using modern and positive methods is not likely to be in conflict with those aims.   Just remember to keep it fun, upbeat, and to enjoy yourselves.
Training without punishment
If you want to start training with a very young puppy then it is especially important that you understand how to train without punishment.
Check out the articles in our force-free archives and  visit our sister site Totally Dog Training for detailed information and advice
More help and information
If you enjoy my articles, you might like my new book: The Happy Puppy Handbook
– a definitive guide to early puppy care and training.
How about you
Do you start training your pups at an early age or are you a bit more traditional in approach?  Share your views in the comments box below.
What age to start training your gundog was originally published in 2012 and has been revised and updated for 2015