[wp_ad_camp_2]Should you teach your spaniel to walk to heel in early training,  or wait until all other training is complete?
Well,  the heelwork versus hunting debate has been doing the rounds of the gundog community for as long as I can remember.  There are two main approaches
The heelwork first approach
The Gundog Club recommends that all hunting dogs are taught heelwork from the very beginning of the training programme.
This is contrary to the system used by some keen field triallers,  who teach their dogs to walk to heel off-lead, near the end of the training programme if at all.
Heelwork last or never!
A very experienced Field Trialler once said to me "A hunting dog should be hunting or on the lead"
And some trainers firmly believe that there are advantages, in terms of maximising a dog's potential hunting drive, in leaving heelwork until all other training is complete.
In this article, we look at the pros and cons of these two very different approaches,  and at why after much consideration,  the Gundog Club's experts chose to teach heelwork at the start, rather than at the end, of the training process.
The two main reasons we teach heelwork at all for hunting dogs are for the practicalities of fieldwork,  and for acceptable companion dog behaviour.
The practicalities of fieldwork
I do not compete with my spaniels,  I do however work them extensively in the shooting field on a regular basis.  The practicalities of 'dogs on leads' on a driven shoot day or when rough-shooting or deerstalking,  make off-lead heelwork an essential quality in an all-round shooting companion.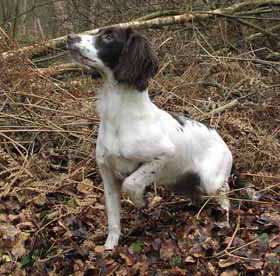 If I am out for a day's rough shooting over spaniels with friends, most of us are carrying a game bag,  a shotgun and probably our lunch too. 
In my view, shotguns and leads do not mix well.
If like me you  usually have more than one dog at heel,  having dogs on the lead every time you walk any distance between pieces of cover that you are working, would be an unnecessary nuisance even if you were not carrying a gun.
My husband is a keen deerstalker,  and has stalking sticks as well as a rifle to manage when he is foot-stalking, for him to manage a lead as well would be totally impractical.
To add to all the above,  very few gundogs in the UK are solely 'tools of the trade'.  Most are also companions or family dogs
Acceptable companion dog behaviour
The vast majority of working gundogs in the UK live in the family home and take part in family life.  If you have ever tried to push a toddler in a buggy whilst being dragged along by a 35lb spaniel, you would see the point in heelwork.
A companion dog that walks properly to heel off lead is a pleasure to take out.  It is very difficult to manage small children,  or scramble up rugged paths with a dog on a lead.  A dog at heel is under control and leaves the owner with both hands free.  It is simply a better way to manage the dog.
For these reasons teaching a spaniel to walk to heel off-lead,  whatever his role in life, is a useful and desirable skill.  In fact, unless he is intended purely for competition and will spend all his free time in a kennel,  it is pretty much essential
Having ascertained that most spaniel's do need to learn to walk to heel on and off a lead,  lets have a look at the arguments for and against early heelwork training
The advantages of heelwork last
An effective hunting dog needs to hunt hard and fairly fast.  It is no use having a spaniel walking sedately around,  not only will much game simply 'sneak off' quietly ahead of you,  but such dog is unlikely to have the 'momentum' to carry him into denser cover where game may be tucked up.
A hard hunting dog smashes through undergrowth, flushing game before it has a chance to wander off.  His drive and enthusiasm take him into the prickliest and thorniest bushes without hesitation.  There is no doubt that this is what we require of a working spaniel,  whether he is intended for  rough shooting,  or for competition.
Some keen spaniel trainers, and HPR trainers too, believe that this kind of drive and enthusiasm can easily be spoiled and inhibited by too much early heelwork.  This is often the principle reason that  they leave heelwork training until the very end of the training process.
The advantages of heelwork first
It is easier to teach heelwork to a puppy,  before it becomes independent and wilful.  There is no doubt that some hunting dogs can become headstrong as they mature.  A lot of novice handlers find it very difficult to  teach heelwork to a strong one year old dog that has previously not has his freedom curtailed in this irksome way.
We know this because being dragged around by the dog is a common reason for people to seek help with their spaniel.
A dog taught to heel later rather than sooner may require a somewhat firmer hand during this process,  which is something that novice trainers may struggle with.
The needs of the novice gundog owner
The typical novice gundog owner often has three important characteristics,  the first two of which are problems.
He cannot stop his dog hunting
He has to take the dog out on the lead in order to reach his training  ground
He is not intending to compete in field trials with this dog
 Inability to prevent hunting
The Gundog Club is contacted on a regular basis by members of the public that are struggling to train their dogs.  A shocking amount of hunting dog owners are actually at the 'end of their tethers' because they cannot control their dogs' hunting  drive.
This is particularly true of Springer Spaniel owners.  The vast majority of people phoning up in desperation own Springers of between 8 months and 15 months old
The one thing they all have in common is that they cannot stop their dogs hunting, flushing and chasing other animals.  Sadly, a visit to a Springer rescue centre demonstrates where many working bred Springers end up.   Some have been inadvisably bought as pets,  but a fair proportion have been bought by people keen to work their dogs, that have failed to cope with them.
I cannot overstate how unusual it is for a gundog owner to tell us that his dog  won't hunt,  or that his dog hunts without enthusiasm.  This is very rare indeed.  When this does happen,  a session or two in a rabbit pen usually has the desired result of waking up the dog's instincts.
Unavoidable lead walking
Most serious gundog trainers do not take their dogs for 'family walks'.  They will often drive to a piece of ground where they train,  and simply exercise / train their dogs directly on leaving the vehicle.   I am fortunate to be in this position myself and it is easy to forget that most people do not have this luxury
For their dog's own safety and to fit in with family life, many dog owners have to walk the dog on a lead every single day. This may be for a whole range of reasons,  from walking the kids to school,  walking to the park or common to train, or for visiting friends.  Leaving their dog at home in a kennel is not an option, he is a part of the family, and goes where they go.
When you consider the disadvantages of  being dragged around on a lead for six months by a growing and vigourous spaniel, you can see the benefits of teaching a family dog to walk to heel at an early age.
Trialling ambitions are unusual
The majority of gundog owners do not intend to aim for Field Trials with their first gundog if at all.   This reduces the importance somewhat,  of the potential for maximising speed and drive that some trainers feel 'heelwork last'  encompasses.   However,  whilst not aiming for a top trialling dog,  many new gundog owners would like to end up with an effective working dog.
Bearing this in mind,  just how do the concerns about hunting 'weigh up' against the know drawback of poor or delayed heelwork.
One of the things I did when we were researching this subject for the Gundog Club's graded training scheme was to talk to a lot of experienced spaniel trainers and field trial competitors to find out their views.
The effects of teaching  'heelwork first'
I soon discovered that many successful spaniel and hpr trainers do teach heelwork early on in the training process.   There are plenty of FT champion spaniels that started heel training from a very young age.  Not only did these trainers demonstrate that it is possible, as I was already aware, to have a good hunting dog that had learned heelwork from the start,  they have demonstrated that it is possible to be competitively successful with such a dog.  Not just once,  but over and over again.
Obviously a little common sense is required,  and a young hunting dog should be given opportunity to develop his confidence and drive before formal training,  including heelwork,  begins.   But by six months old,  a confident  young spaniel will come to no harm whatever from learning to walk to heel on and off a lead.
The Gundog Club's decision to include heelwork in its Grade One syllabus for spaniels has proven a successful one.  Students are happy to own dogs that are well behaved on and off a lead,  and these same spaniels are getting good scores in the hunting sections of the Grade Two tests and above despite having been taught to walk to heel from the start.
If you liked this article, you might also enjoy reading  quartering for spaniels
Do feel free to comment on any of our articles,  and if you have enjoyed reading them, please consider sharing them using one of the buttons below.
If you enjoy my articles, you might like my new book: The Happy Puppy Handbook
 – a definitive guide to early puppy care and training.