Missing out?  Click here to get my new articles delivered to you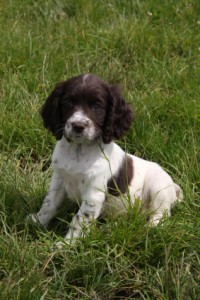 Most gundog puppies are something of a compromise.
Unless you live alone, you will probably have to share your puppy with other members of the family.
In many ways this will benefit the puppy and enable him to grow into a confident, friendly, and well socialised dog.
But there is no doubt that raising a gundog puppy with the minimum number of 'faults' and the best chance of a good outcome,  will depend on the way that he is handled as a puppy.
And this is where conflict between family members can rapidly escalate.
Working gundog faults
We recently had a discussion on my forum which involved some misunderstanding.[wp_ad_camp_1] The misunderstanding arose between those that raise their puppies purely as family companions, and those that raise their puppies with gundog work in mind.
The fact is, there are puppy behaviours that are considered normal in most families, but that can seriously interfere with your puppy's prospects of being a good working gundog.
Let's have a look at some common, and not so common faults in gundogs
Noise
Poor delivery
Boredom with retrieving
Over independence
Noise
Concern over noise was one aspect of raising a gundog puppy that many of my pet gundog forum members did not understand.   However, noise in a gundog is a serious fault.  It is an eliminating fault in KC competitions and will lose you marks in GC field tests.
Noisy dogs are unpleasant company on shoots, distracting to the guns, and disturbing to game.  So, noise is a big NO-NO.
Yet many pet dog owners encourage or at least fail to discourage, noise in their puppies. And whilst noise at home and in the car may not necessarily predict noise in the field (this may be largely related to excitement) it makes sense not to encourage it.
Poor delivery
Spitting out dummies and balls instead of placing them in your hand may seem inconsequential in a pet dog, but if a working gundog spits out a wounded bird, that bird may then escape and cannot be humanely despatched.
All gundog puppies should therefore learn to deliver a retrieve right into your hand.
Nowadays we can remedy a poor delivery by training the hold and release using an event marker, but this can be time consuming.  It is better to encourage a neat delivery from an early stage.
Boredom with retrieving
Retrieving drive comes in many guises.  In some puppies it is powerful urge that is very hard to quench, in others it is a little flickering flame that must be nurtured, fed, and encouraged.
Sadly, even the most passionate retriever can be sickened of the whole game if given too many retrieves as a puppy.  And desire, or drive, is very hard to restore once quashed.   This is a problem to look out for in families where several people play with the puppy
Over independence
In the 'good old days' of dog breaking, gundog puppies were allowed to run free for the first few months, hunting and chasing to their hearts content.
Fairly severe methods were then used to impose obedience at a later date.
This practice is somewhat less common these days, especially amongst retriever trainers, but the first part (a lot of freedom) still occurs inadvertently in many pet dog homes.
Unfortunately, these are the very homes where most wish to train with very gentle methods and the combination does not bode well for gundog work.
Puppies intended for gundog work should not be given too much independence.   They only need sufficient independence to enable them to confidently do their job.  Keeping your puppy close is very important.
Some less common faults
There are some less common faults such as clinginess, or reluctance to hunt, and fear of loud noises.
But these  are actually less likely to occur in pet homes which house busy families, where puppies tend to be given plenty of freedom and are pretty well socialised
Basic Puppy Guidelines
Here then, are your puppy guidelines.  Simple rules to abide by and teach your family, in order to give you and your puppy the best foundations on which to build his gundog skills
Don't respond to any noise your puppy makes, don't chat to him, feed him, put his lead on, or anything else that he likes when he is whining or yapping.
Do teach your puppy to be quiet in his crate and in the car.  Including when other exciting things are going on around him, or when visitors arrive
Don't pull things roughly out of your puppy's mouth
Do encourage him into your arms and make a big fuss of him before you gently remove the toy or ball and reward him with another throw or two
Don't allow anyone to throw endless retrieves for your puppy
Don't allow your puppy to chase your other pets, your cat may be able to outrun him now, but chasing animals can easily become a habit
Do always stop retrieving games whilst he is still having fun
Don't allow puppies to play with retrieving toys
Do keep puppy dummies and balls out of his sight and reach when not being used for retrieving
Don't allow your gundog puppy out of your sight, or more than a few yards from you outdoors until he is retrieving at longer distances
Do keep changing direction when outdoors with a gundog puppy so that he has to keep his eyes on you at all times
So there you are, a few simple guidelines to help you avoid some of the most common mistakes that new puppy owners make with their gundog puppies.
If you think there is the slightest chance you may want to get involved in the fun of gundog training and tests, or even participate in gundog fieldwork, do try your hardest to abide by these rules.
How about you?
Is there anything you wished you had not done with your gundog puppy, anything you think is missing from the list?  Drop your thoughts into the comments box below
If you enjoy my articles, you might like my new book: The Happy Puppy Handbook
– a definitive guide to early puppy care and training.