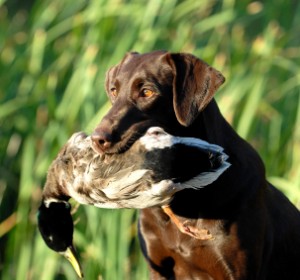 Retrieving is not one behaviour but a whole sequence of behaviours.
Some aspects of the retrieving process are strongly instinctive for many gundogs
Other aspects, not so much.
And retrieving is one area where many novice gundog owners struggle.
What should be a natural, simple process, may suddenly become complicated and fraught with difficulty.
When things go wrong
Sometimes the whole retrieve is spoilt because one small aspect of it, is not working.
It is therefore very useful to be able to take the retrieve apart, fix the broken bit, and put it back together again.[wp_ad_camp_1]This 'fixing' process has been made much easier by progress in the field of behavioural science and the use of event markers.
But to be able to dismantle a behaviour and mend it in this way,  we really need to understand what its components are and how they fit together.
Let's look at some of the components of the retrieve in turn
Strongly instinctive components
Retrieving is a refinement of predatory behaviour.
In the many generations over which gundogs have been selectively bred,  we have suppressed some of the components of the predatory process. For example,  gundogs no longer shake and crush what they catch,  but hold it gently in their jaws.
There are some components which are still strongly instinctive in many dogs.   They include
Marking a moving or falling object
Chasing a moving object
Hunting scent
Grabbing a moving or stationary object.
Each gundog is unique and will have different levels of natural ability or 'drive' for each of these activities.  Some will love to chase, but be reluctant to grab or pick up anything,  especially if it has stopped moving.
Some will be better at hunting scent, others will be better at marking.
Many working bred gundogs will have very strong urges to chase and hunt,  and these urges need to be put under the owner's control.
Failure to gain control, tends to lead to a breakdown in the training process.
Weaker components/default behaviours
There are two important aspects of retrieving that are not so strongly instinctual and which may even be non-existent in some gundogs.
They are
The return
The hold/carry
These actions need to become 'default behaviours'.  That is to say,  they need to be an automatic part of the retrieving chain,  not something that the handler has to command the dog specifically to do.
Every time the dog picks up the retrieve his default behaviour must be to return to his handler.  No recall should be required,  though a recall signal and other cues, may be used to establish this behaviour in the young dog.
Once the dog has the retrieve in his mouth, his default behaviour must be to hold on to it until commanded to release.  This is another sticking point for some dogs,  who naturally want to put down the retrieve on reaching their handler.   And in this case a 'hold' can be taught as an interim measure
The controls
To have control over the retrieving process, even when all the right instincts and default behaviours are in place, we need to be able to stop and start the behaviour.
There are two key cues that must be taught to the dog that enable this control.  And they are
The back command sets the retrieve in motion.  Once the dog is underway his instinctive behaviour will help him find the retrieve, and his default behaviours must be solid enough to bring him home with his prize.
It goes without saying that the dog must give up his retrieve on cue.  Most handlers use the word 'dead' for this,  but 'give'  will do just as well.
There are a lot of articles about retrieving and dealing with retrieving problems on this website.
Here are a few you might enjoy:
Check out the Graded exercises, and Help sections for more information
If you enjoy my articles, you might like my new book: The Happy Puppy Handbook
 – a definitive guide to early puppy care and training.