[wp_ad_camp_2]Is your dog obedient until a rabbit runs past?   Does he 'bolt off'  after birds or even butterflies?   Chasing behviours are often a problem in young gundogs,  particularly in spaniel breeds,  and most especially in springers.
Despite a promising initial start, many gundog owners have all but lost control of their dogs by nine months or so.  They are unable to prevent their lovely young dog chasing rabbits, butterflies, birds, leaves, even sheep.  All their efforts to get the dog to obey the recall commands they thought he understood, fly out of the window. 
The owner is often quite desperate and wants to know how to stop this behaviour and to get the dog to come when he is called.
Powerful hunting urges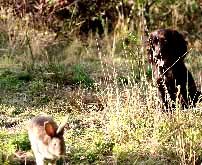 Why do many spaniels and quite a few retrievers cause their owners such problems and what is the answer?
Well, part of the solution is understanding what is causing the problem.  
Working bred Springer spaniels (and cockers too) are 'hard-wired' to hunt.   That is to say they are born with a powerful instinct to search for, flush and chase anything that moves.   To the competent gundog trainer this is not a problem; in fact it is just what he is looking for.   However, he approaches training his dog from a very different perspective that that of the average pet dog owner.
A different perspective
Effective gundog training is a process of teaching the dog 'what to do' in any given situation, rather than teaching him 'what not to do'.  Strictly speaking, we don't teach a dog 'not to chase game'.  Rather we teach him what he should do in the presence of game.  This might be to complete his retrieve, or to walk to heel if he is a retriever, or to sit to flushing game if he is a spaniel.   A working gundog is always on a 'mission' whether that mission is a retrieve or to hunt.   The dog knows what his mission is, and understands that he must stick to the job in hand and not change the rules in any way.
The Self-Employed dog
The pet gundog is often exposed to a situation in which he has no absolutely no idea what he is supposed to be doing.   Commonly this is referred to as a 'walk'.   Once the puppyish phase of a strong dependency on the owner is past, typically at 6-9 months of age, the young gundog with his inbuilt hunting instinct, when taken for a walk, will hunt.   After all, the owner hasn't asked him to do anything else, so hunting seems like the best plan.  Sooner or later something will move  –  a leaf,  a bird,  a rabbit and the dog, already in 'prey drive' and 'high' on adrenaline will give chase.   Your whistle or desperate pleas for the dog to return have absolutely no chance whatsoever of being obeyed.
Teach your dog to follow you,  not the other way around
People experience endless problems with pet gundogs chasing things, simply because  they haven't taught them what else to do,  or because they allow them to be exposed to powerful temptations before they have trained the dog how to cope.    Like so many problems, prevention is simpler than cure.  When you take a young dog out for exercise, try to resist the temptation to walk in a straight line.   It makes you very predictable, and the dog may begin to feel confident in venturing further and further afield in the knowledge that you will be plodding along in the same direction when he returns.   The more independent the dog, the more you will need to keep changing direction.  This forces the dog to keep an eye on you.  Your objective should be for the dog to be following you, and not the other way around.  Keep away from high risk areas where there are lots of other dogs around or rabbits to chase.   You cannot train a dog under these conditions.
In areas where you cannot be certain there are no distractions of this nature,  have your young dog wear a training lead so that you can prevent him amusing himself without you if the unexpected occurs
Teach your dog a solid recall command
People sometime say 'my dog's recall is great until another dog comes by'  or 'another person,  or a 'rabbit…'    The fact is,  teaching a dog to recall where there are no distractions is only the very first rung on the recall ladder.   Proofing the recall is by far the biggest part of recall training.  Many times what is seen as a 'behavioural'  problem,  is simply a recall problem.  Proper recall training is more than just getting a recall established where there is nothing to distract your dog's attention.
You need to begin at close quarters and only add distractions such as other dogs, people, and game, in gradual stages.  If you are not sure how to do this,  there are precise instructions in The Gundog Club's training guides.  Build up distances gradually over many weeks and put a strict limit on how far the dog is allowed to go from you.   Always recall the dog before he reaches the limits within which he will obey   – distance erodes control and is a strong 'distraction' or factor of difficulty to a young dog.
Give your dog a job to do
Make sure your dog knows what he is supposed to be doing, whether that is following you, or fetching dummies, find things to occupy him.  If you don't he will surely find amusement for himself.
One of the simplest ways to occupy and amuse a dog during exercise is with retrieving.  Make a point of nurturing your dog's retrieving instincts so that you can give him longer and longer retrieves to keep him fit.   If your dog is a spaniel, teach him to quarter from side to side in front of you and never allow him to run around hunting for himself
 Do train your dog as a gundog
Even if you never intend to go anywhere near a gun, gundog style training is designed to harness the natural instincts and desires of the gundog and will give him and you great pleasure
Training a dog takes time  – most people introduce far too many distractions to a pup at far too young an age.  Follow a well-structured training programme such as the one in The Gundog Club training guides.  Get the basics well established before you add complications.
Keep your puppy close and out of mischief.  If you are careful he need never learn to have fun without you.
More help and information
If you enjoy my articles, you might like my new book: The Happy Puppy Handbook
– a definitive guide to early puppy care and training.