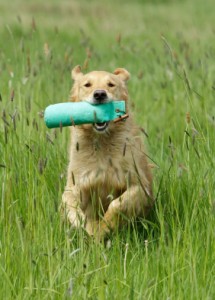 Advanced retrievers can look very impressive.
But everyone has to start somewhere.
Let's look at the Grade One retrieve.
This is the simplest retrieve in the Graded Training Scheme for gundogs
It gives you a starting point, and a standard to aim for after a short period of training.
The Grade One retrieve
The Grade One retrieve is very simple.  Your dog will not have to hunt or search for the dummy
It will not be thrown very far, and he will be able to see it quite clearly.
He will not be disqualified if he drops it at your feet.  No one will judge you unkindly or expect too much.
You will be also able to restrain your dog if you wish,  so it does not matter if you haven't got him quite steady yet.
What are we looking for?
At this stage we are looking for a dog that is enthusiastic about retrieving.[wp_ad_camp_1]He will need to be willing to run out and pick up a dummy.  And he will need to return to you with the dummy.
A neat delivery  is the icing on the cake.  
But it is not essential.
It is all about making a start. Excellence comes later.
Teaching the retrieve
Your dog will need to pick up a canvas dummy in the Grade One Field Test.
But you can use any retrieve item that your dog likes,  to get your retrieve training underway
If you are lucky enough to be starting out with a brand new puppy,  then you will probably be able to avoid many of the more common retrieving problems.  Check out 'the puppy retrieve' for more information
Don't worry if you have an older dog, with modern training methods,  most dogs can be taught to retrieve from scratch.  Read The Trained Retrieve to find out more
The desire to retrieve
One thing we cannot specifically train, is drive. Or the desire to retrieve
Many dogs, especially the gundog breeds, and particularly working lines of these breeds have a 'drive' or urge to retrieve to some degree.
Your job is to find,  cherish, and feed this desire, so that it grows and blossoms.
Check out Building and maintaining retrieving desire for more information
Marking practice
The grade one retrieves are both short distance 'marks'.   Although they are very short and simple, it is still worth practicing.
Make sure your dog can retrieve at the distance set out for your category of gundog (see below) and that he can do it in different places.
Then, when you are ready to take your Grade One field test your dog will gallop out with confidence and style.
Us light coloured dummies that are easy to see and throw them in clear view
Increase distances gradually, and keep these early retrieves away from cover where they might be concealed
Check out the Grade One retrieving and basic obedience requirements for your dog.  Choose from
Don't forget to book your test as soon as you are ready.  It's a great way to start.
 More Information
If you enjoy my articles, you might like my new book: The Happy Puppy Handbook
 – a definitive guide to early puppy care and training.