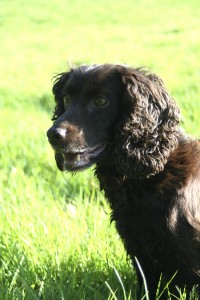 The Graded Training Scheme for gundogs was launched in the UK in 2006
It is a national scheme and gundog owners can participate throughout the United Kingdom
The scheme sets concise standards for gundogs-in-training at different levels.
And enables gundogs to be assessed against those standards in a series of Field Tests
The categories
The scheme comprises six levels or grades for each of three categories of gundog work
The categories are
No pedigree required
Participating dogs do not need to be purebred.  Any dog, can compete in any category.[wp_ad_camp_1]The only criteria is that the dog and his handler can meet the standard laid out for the grade and in the category, for which the dog has been entered.
If your dog can hunt like a spaniel should hunt, and retrieve as a spaniel should retrieve, he can enter the spaniel tests.
It does not matter a bit who his parents were.  Nor will anyone mind if his coat is the wrong colour or his tail is too long.   He will be assessed against the standard, just like any other dog participating in the scheme.
The grades
Over the last few decades much progress has been made in our understanding of the learning process.
We now know that breaking any training journey down into achievable chunks or stages, makes that process more effective and more enjoyable for those taking part.
This applies as much to our dogs as it does to their owners.
The gundog training process is broken down into six individual grades
Each grade has a standard laid down, and any dog meeting that standard, in one (or more) designated Field Test(s) will gain his award.
The awards start out very simply (at grade one), and become progressively more challenging as you work through the scheme.
We will be looking at the grades in more detail in forthcoming articles
The Gundog Club
The graded training scheme is managed by the Gundog Club,  the training arm of The Gundog Trust, the UK's national gundog charity.
You can find out more about the GC in this article, or by visiting the Gundog Club website.
There are some more articles about graded training below
If you enjoy my articles, you might like my new book: The Happy Puppy Handbook
 – a definitive guide to early puppy care and training.