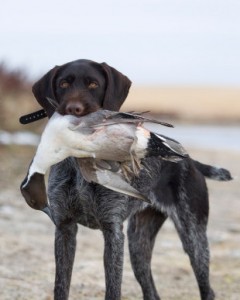 Whilst all gundogs have been bred to assist their human partners in producing game for the table,  they do so in very different ways.
Some specialise in finding game that has been shot.
Others in finding live game and flushing it for the gun.
Yet others fulfil a combination of roles.
We divide gundogs up into categories, depending on their function and purpose, but these different categories have much in common.
A common purpose
All gundogs share a common purpose.
Their key role is to ensure that high quality wild meat can be produced for human consumption without the inconvenience and industry required in producing farmed meat.
Gundogs are also crucial in ensuring that wild animals that have been shot are treated with compassion.
Food for the table
We should not forget that gundogs are a vital part of the production process of wild game.  We tend these days to think of shooting as a sport, which in many ways it is,  but game shooting is also a food production process,  and it is important that food is not wasted, contaminated or damaged.[wp_ad_camp_1] A good retriever returns each shot bird or animal to the handler quickly so that it can be despatched if necessary, and in good condition so that it can pass into the food chain.
Whilst some people are vegetarians,  most of us do eat meat,  and there are strong arguments for eating hunted meat rather than farmed meat. 
If this interests you, I look at this topic in more detail in The Ethics Of Shooting.
Gundogs as pets
The suitability of gundogs as pets is also partly linked to the specialist roles that they play in the shooting field.  The dogs that work in closest co-operation with man tend, not unnaturally, to be the most co-operative in nature.
This is partly why retrievers are such popular and successful companion dogs
Spaniels have been bred for very high energy levels and the mental toughness required to work in harsh cover, as well as trainability and more recently, retrieving ability.   This makes them a rather interesting mixture of brains, energy, speed, and independence.
Whilst more co-operative than many non-gundog breeds, spaniels are often harder for a novice gundog owner to train than a retriever.  And may be less restful as companions, both out walking and at home, than their retriever cousins.
You can read more about the different categories of gundog, their roles and attributes, in Choosing a gundog 1: different categories of gundog work
Gundogs in service
The characteristics that we have selectively bred into our gundog breeds to make them outstanding hunting companions has had an extremely valuable side-effect.   For the abilities and qualities that make a great gundog, are also the qualities that make excellent service dogs.
With their outstanding sense of smell gun dogs,  now dominate the drug detection service,  and are used for scenting out money, bed bugs,  bombs, chemical imbalances in human bodies  and much more.
With their patience and trainability,  retrievers dominate the guide dog service, and gundogs generally lead the way as assistants for the disabled.
Gundogs are our finest and most useful companions,  saving and enhancing the lives of people all over the world.   But there is nothing quite so wonderful as training and watching them do what they have been bred to do.
And that is what this website is all about.
If you enjoy my articles, you might like my new book: The Happy Puppy Handbook
 – a definitive guide to early puppy care and training.