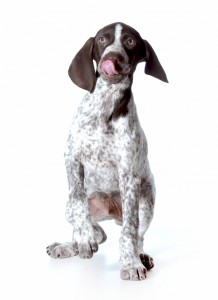 There are four main categories of gundog work in the UK.
The different breeds within each group may vary considerably.
But they share common attributes that suit each of them to their particular role.
Before you bring a gundog puppy into your family, it is a good idea to have an understanding of the roles of each of these four groups of dog.
And to consider how each category would 'fit in' to the kind of gundog work that you will be involved in.
A good match between the temperament and ability of the dog you buy or adopt, and the role you want him to fulfil, will give you the best chance of a great working relationship.
Retrievers
Formal retriever work requires the dog to remain at the handler's side until he is sent to collect shot game.[wp_ad_camp_1]The retriever must remain unwaveringly steady despite the temptations or distractions around him, and only leave the handler's side when commanded to do so.
Whilst having the ability to wait patiently for long periods of time, the retriever must also mark accurately any shot game, and be prepared to face considerable difficulties during the course of sometimes long and complex retrieves.
He must use his initiative and experience when necessary, as he builds on his game finding skills, yet be instantly responsive to his handler's every command, even at great distances.
Of course not all retrievers are patient and naturally calm.  But these attributes or an approximation to them, are more commonly found in the retriever breeds.
The most numerous retriever used for this purpose in the UK is the Labrador Retriever. Several other breeds can be found carrying out the same task, including golden retrievers, and flatcoated retrievers.
On the whole, retrievers make good family pets and housedogs as once mature they are usually fairly calm and patient in nature.  And working strains of our main retriever breeds are available today in the UK.
Training a retriever is also more straightforward than training a spaniel or HPR as you are able to focus on one particular type of gundog work  – retrieving  – and do not have to worry about training the dog to quarter or 'sit to flush'.
Spaniels
The spaniel is first and foremost a hunter.  Modern spaniels also retrieve, some of them do this very well indeed.   However, hunting is a spaniel's primary job, and his strongest instinct.
Traditionally, his job is to hunt up and flush game within close range of his handler, to stop immediately the game is shot, and to retrieve on command.  If you watch a fully trained working bred spaniel at work, you will see that he hunts extremely fast, flashing from side to side in front of his handler and covering a huge amount of ground in the process.
The ability to work in this manner comes with a price.   The working bred spaniel is a very lively dog indeed and when young may be a very restless companion in the house.   His trainer may require a higher level of ability to channel and harness that energy simply because of the speed at which the spaniel works.
The Gundog Club receives more enquiries from people who are struggling with working Springers than with any other breed, despite the fact that Labradors numerically are more popular.
A sad number of working bred Springers end up in rescue centres.  If this is your first dog, it is worth thinking really hard about whether a working spaniel is what you need.
Look out for our article, 'which breed is right for me' and you may want to check out this article The Trouble with Springers.   Then if you really want and need a spaniel, 'go for it'.  You will learn a huge amount along the way, and should be prepared to get help sooner rather than later if you are struggling.   If however, you are unsure, do give it some more thought.
Talk to some trainers, watch spaniels and retrievers at work and take your time to make up your mind. A spaniel is not always the best choice for a first gundog.
 Setters and Pointers
The true role of the setter or pointer is to find scarce game in open countryside and 'point' to it enabling the handler to approach within gunshot before the flush.    A setter or pointer is not required to retrieve.
The pointing breeds are large athletic dogs, which need considerable amounts of exercise and large open spaces in which to run.  They are not suited to the average shooting man or woman who simply want a dog to be a companion at home and pick up game that they have shot in the field.
If you are interested in one of these graceful and beautiful dogs, do carry out plenty of research into their needs before you begin.  Setters and pointers are not currently included in The Gundog Club's graded training scheme
HPRs or Versatile Gundogs
The HPR, as his name implies, is required to hunt up game, point to it, and finally on command, to retrieve it.   These multi-skilled dogs are becoming increasingly popular, and there is a large range of different breeds from which to choose, each with their own unique characteristics and working style.
They are however still in the minority in the shooting field and specialists in their training are harder to find.
This article is part of a series called Getting Your First Gundog.  You are welcome to add your comments below.
If you enjoy my articles, you might like my new book: The Happy Puppy Handbook
 – a definitive guide to early puppy care and training.
"The different categories of gundog work"  was taken from  Choosing Your Puppy  a chapter in The Right Start, a Gundog Club guide to raising puppies for fieldwork.  The Right Start can be purchased from the Gundog Club Bookshop.  All proceeds go to The Gundog Trust