Today's article adds to our library of breed information – The Wonderful World of Gundogs – and is a guest post by gundog enthusiast Lucy Easton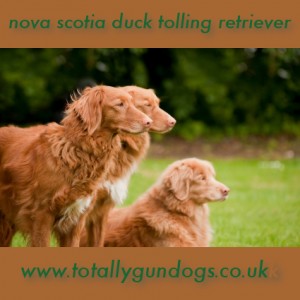 Named for their place of origin, the Nova Scotia Duck Tolling Retriever comes from Canada.
They are more commonly known these days as 'Tollers' or 'Duck Tollers'.
As the name again suggests, their main purpose as a gundog centres around waterfowling.
Tollers are often used in groups.
Primarily their focus is to lure geese and ducks into range of a hidden shotgun, then retrieve the fallen birds from water.
Their waving white tipped tail is believed to help attract the waterfowl. They have a thick, water repelling, double layered coat, which enables them to stay warm whilst working.
Appearance
This pretty retriever has a very distinctive look. The coat ranges in colour through reds and oranges, often with small white flecks. Their ears are almost triangular in shape, off-set by their small but muscular bodies.
The Kennel Club describes this breed as being of medium size, with a medium length coat. As such they do require regular grooming – especially when they have been out working!
If you are interested in learning more about the Nova Scotia Duck Tolling Retriever, why not check out the UK Toller Club website.