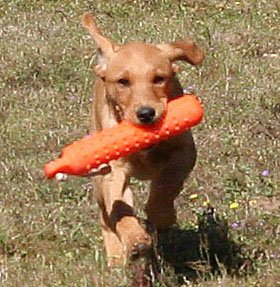 Retrieving is a complex skill.
A 'chain' of events with potential for problems at each link in the chain.
But sometimes, with the right puppy and the right handling,  the whole retrieving chain develops nicely and naturally with very little tweaking.
Because a 'natural' retrieve and delivery is straightforward and a pleasure to work with, it is well worth while trying to establish this, from an early stage.
There are three articles here on developing a puppy retrieve this way
Don't panic if you have problems,  retrieving issues are very common and nearly alway solvable.  The most important thing to remember is to keep your puppy keen.   You can find out how to do this in the links above.