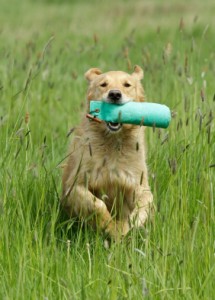 I originally published this article in February 2013. I am updating it today – almost a year later, because I have some great news.  But you'll have to read down to the end to find out what it is!
Yesterday morning I noticed another comment on this site from a gundog owner that has had a disappointing experience with a professional gundog trainer.
Sadly such complaints are a regular feature in my email inbox.
This lady, a competent clicker trainer wishing to get involved with gundog work, was turned down by the first gundog trainer she approached,  and told by the second that clicker training is a 'passing fashion'.
And the trainer's reason for not wishing her students to use clicker training was given as 'dogs don't click each other'.
It is difficult to know where to begin with that one!  But I'll give it a go!
Dog's don't click each other
Dogs don't retrieve for each other,  dogs don't teach one another to sit on command,  dogs don't put leads on one another,  dog's don't actively mark or reward one another's behaviour in any kind of organised or considered manner either.[wp_ad_camp_1]What dogs do with one another has little relevance in a training relationship between a dog and his owner.
We change a dog's behaviour by altering the consequences of that behaviour.
And we sometimes have to do that in tiny incremental steps.
Imagine trying to teach a therapy dog to unload a washing machine,  or even to switch on a light,  in one step.
It would be impossible!
What does that have to do with gundogs?  I hope that will become clear in a moment.
Moving the goalposts
With complex skills we first need to reward all the stages in learning along the way.  From simply looking at the light switch to actually moving towards it,  touching it, and so on.   We gradually 'move the goal posts',  getting nearer and nearer to the final behaviour.  And many of these changes in behaviour along the way are small and 'fleeting' events.
We often need a marker to identify these events so that the dog can learn what we want him to do and so that  we can reward him for it.   The alternative is to give the reward (be it praise, food,  a retrieve etc)  immediately after the event,  or, to keep punishing the wrong behaviours until the dog settles upon the right one.
Of course in many cases, it isn't possible to accurately reward a dog immediately after the event.  Especially when we are looking for tiny and fleeting changes in behaviour.  That is where a clicker comes in handy, and it is the purpose for which it was developed.
Clickers are excellent event/reward markers and are used internationally by animals trainers in teaching complex skills in many different fields, including therapy dogs, obedience, agility, military, police, guide dogs, circus dogs and canine film stars.
Our knowledge and understanding of clicker training has grown immeasurably in the last few decades.   And gundog trainers have nothing to fear from this useful addition to any trainer's toolbox.
Of course it is absolutely acceptable for a trainer to specify what methods will be used in her classes.  But
For any dog trainer to  simply reject the accumulated knowledge of the last forty years in the field of animal behaviour and training, as a 'passing fashion',  is beyond silly.
That is my quote by the way,  I just wanted to emphasise it!
So are gundog trainers stuck in a rut?  And if so,  why?
Specialist gundog training
Gundog training requires a very specific set of skills.   And those skills haven't changed much in the last forty years.   This means that the old methods that gundog trainers used back then,  still work now.
Many gundogs have instinctive behaviours that enable them to complete the tasks required of them,  hunting and retrieving for example.    We have all seen some pretty wild and poorly trained gundogs making a reasonable job of flushing a bird and even retrieving it.
Much of the training that goes into a gundog is about controlling those instincts and teaching the dog to delay his impulsiveness and wait for a command.   When we get this right,  we get a beautiful partnership between man and dog.
This can be done without event markers.
However, the use of an event marker (such as a clicker) can assist in certain aspects of training,  and enable complex chains of tasks like the completed retrieving chain, to be taught to dogs that are perhaps deficient in a particular aspect of the chain.   Sometimes this can be faster than traditional methods,  sometimes it is slower.
Gundog trainers don't need clickers
Even though some of the dogs they may train can benefit from their use,  gundog trainers don't need clickers.   They can choose which dogs to train and which to give up on.   And there are 'force' alternatives for many of the skills that we can teach with a clicker.
You can be a brilliant gundog trainer without ever going near a clicker and experienced gundog trainers have a huge amount to offer those just starting out with gundog fieldwork.  Not just with problem solving and dealing with difficult dogs,  but in teaching people fieldcraft,  how to work with the wind,  and to use the dog's natural ability.
However, if a gundog trainer is to participate in encouraging the growing interest in gundog fieldwork amongst pet dog owners,  he or she does need to recognise that attitudes towards dogs and dog training have changed.
Many people no longer wish to punish their dogs.   Some don't want to correct their dogs at all.  And these dog owners have heard that there is a way to train that can make their wish come true.  Not unreasonably,  they want to give it a go,  and are very confused to be told by one person that it can't be done, and by another person,  that it can.
Let's be clear,  there are aspects of gundog work that do not lend themselves to 'positive-only'  training.  Largely because of the difficulties in controlling the environment in which a gundog works.  Whilst I personally enjoy learning new skills like clicker training, it is not a 'replacement'  for all of our traditional skills.  There are gundog skills I have not yet been able to teach without some form of correction.  The sit to flush for example.   There are other skills that I find too time consuming to teach without any corrections.
And I suspect that a clicker trained FTCH spaniel will be a very long time coming…
But for gundog trainers to deny the existence of different way to train,  because they don't want to bother learning new skills,  or cannot believe that there is any way other than their way,  is probably not a good idea in the long run.  For their own business, and for the future of gundog fieldwork.
Let's be objective
What is needed is objectivity and honesty.   Clicker training works.  There are people out there right now teaching animals incredibly complex tasks using clicker techniques.   There are FTCH retrievers that have been clicker trained.   There are still some gundog trainers out there with their heads in the sand over this one.   Come on out!   It's nicer out here in the sun.
You don't need to clicker train in order to train a gundog.  You probably won't ever win a spaniel trial if you are unwilling to use corrections in training.  But that is OK.
Give people a chance
There is a place for those with pet gundogs that just want to have a go at training a working gundog with the minimum of force.
Let's encourage them and support them.
How hard can it be to help people to be nice to their dogs?  They will discover the limitations of their techniques and abilities soon enough.  And who knows,  that new student might teach us a a thing or two.  She might even be the next dog training 'legend' in the making.
No-one is ever so accomplished,  so skilled,  that they cannot learn from trying out new techniques and listening to what others have to say.
But there is hope!
There are professional gundog trainers who recognise that clicker training has its uses,  even if they are not interesting in becoming skilled at it themselves.  Even though the misinformation I hear about on this site and in my email inbox, is still being trotted out on an almost daily basis.
There are even gundog trainers now that use clicker techniques and that teach them to their students.   And there are many more gundog trainers that will try and help their students train using positive reinforcement where possible,  and to work with a minimum of corrections.
The pace of change
There have been so many advances and developments in applied animal behaviour science over the last twenty years that I guess it is unreasonable to expect everyone to have kept up.  And of course literally anyone can be a dog trainer.
You don't need any kind of qualification, knowledge, skills or experience in order to offer a dog training service to the public.  So inevitably there are people out there with huge gaps in their knowledge.
I am disappointed that more gundog trainers are not interested in learning about clicker training.  Not so much for their own benefit,  as they already have a system that works well for them.   But because so many dog owners nowadays want to train this way,  and because a technique which facilitates the training of complex skills will always have the potential to reduce the number of dogs that 'don't make it' as gundogs.
I also think that a professional dog trainer in any field, really should be knowledgeable about canine behaviour generally,  even those aspects which he may chose not to use.
I do think it is rather unprofessional for a dog trainer to offer incorrect or misleading information about clicker training.  And to fail to take the time and trouble to at least find out how the system works and who is using it.
Things are changing.  Particularly amongst retriever trainers.
We now have a clicker trained FTCH retriever FTCH Levenghyll Beetle (Jinks) and a number of retriever trainers successfully competing at high levels with clicker trained dogs.  The Positive Gundogs Facebook Group is a good place to keep up with the latest in force free gundog training
Unfortunately,  the pace of change is sometime slow,  but as new young trainers come through I believe that those changes will accelerate.
So hang on in there any clicker training enthusiasts reading this.   Some gundog trainers may be 'stuck in a rut' but many are not.   I do believe that there will be a gundog trainer near you quite soon,  that will help you in your quest to get as far as you can with your dog,  using methods you feel comfortable with.
Update 2014
I am delighted to be updating this article in June 2014.
The Gundog Club now have two very experienced positive-reinforcement trainers on their affiliate register of Accredited Gundog Instructors
You can find our more here
Clicker Gundog Trainer at Evesham
Clicker Gundog Trainer in the Channel Islands
They also have another positive-reinforcement trainer joining soon, and enquiries from clicker trainers is increasing.  This is great news for students in these areas, and the Gundog Club looks forward to being able to offer clicker training opportunities in many more regions in the future .
If you enjoy my articles, you might like my new book: The Happy Puppy Handbook
 – a definitive guide to early puppy care and training.