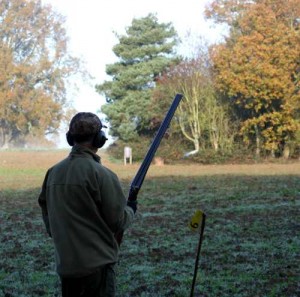 Many people simply have no contacts at all in the shooting world,  but would still love to have a go at this exciting sport.
The shooting community is a close-knit one,  and to an outsider,  it can be hard to find a way in.
Your first step should be to make sure that you are  taught to handle and fire a gun safely and effectively.
We'll look at that a bit more closely below
Shooting activities in the UK fall into a number of distinct groups, including but not limited to:
Participating in driven pheasant shooting can be a very expensive hobby.  Guns pay hundreds, even thousands, of pounds for a single day's shooting.
Before you attempt to participate in a day's driven shooting,  it is important that you learn to shoot effectively and safely with a shotgun.[wp_ad_camp_1] Learning to shoot is a lot of fun. There are shooting clubs up and down the country which you can join and where you can learn basic gun safety and handling,  and acquire some skill and proficiency by shooting at clay pigeons (disc shaped clay targets which are thrown into the air by a machine).
You don't need to rush out and buy a shotgun at this stage,  you will be able to borrow one to use under supervision of one of the coaches at your local club.
Once you are a competent shot,  then you can try your hand at shooting quarry species on a managed game shoot.
Whilst you will need deep pockets to buy shooting on a large formal shoot,  smaller and more informal shoots are less expensive,  and are likely to give you more opportunities to chat to keepers,  pickers up,  and members of the beating team.
These contacts will be important to you once you have a gundog that is ready for some field work.
Learning to shoot through a club
Shooting at 'clay pigeons' is a good introduction to shotgun shooting, for those that have no connections within the hunting and shooting community.
It enables the shooter to learn  safe gun handling,  and to become proficient and accurate,  before going anywhere near live quarry.
Because some clay shooters are also keen game shooters,  getting involved with clay shooting will also get you some contacts in the shooting community.     The Clay Pigeon Shooting Association is the governing body for clay shooting in the UK.  Check out the CPSA  website for more information on learning to shoot.
Learning to shoot through a mentor
The traditional way to learn to shoot in rural communities was through a mentor.  Usually a relative, a father or an uncle.   Growing up around guns, children learn at a young age what they must never  do with a gun and what they must always do in the presence of guns in order to remain safe.
Britain has a long and strong tradition of good gun handling and gun safety in its  legitimate shooting community,  and this has largely been passed down from mentor to pupil in successive generations.
If you have opportunity to learn from an experienced shot in this way, grasp it firmly.  For most of those coming to the sport of shooting as an adult,  this option is not available to them.
Other types of shooting
Rough shooting and wildfowling are other activities you can get involved in once you have learned to shoot with a shotgun.
Getting started with rough shooting can tricky. You will need the permission of the landowner which understandably is not often readily offered to strangers.
Getting involved with a small local driven shoot first will help you make contacts within the shooting community in your area
To get involved in  wildfowling you will need to join your local wildfowling club.  This is not a sport you can 'dabble' in as it requires extensive knowledge of the shoreline and target species.  You can links to wildfowling clubs on the British Association for Shooting and Conservation website
Deer are shot with a high velocity rifle and deer stalking is a very different skill than shotgun shooting,  check out this article : Deer Stalking  and visit the BASC website for more information.
If learning to shoot does not appeal to you, there are other ways to get  involved with shoot activities.   Check out Helping Out or Working on a Shoot for more information on gaining contacts and making friends within the shooting community.
If you enjoy my articles, you might like my new book: The Happy Puppy Handbook
 – a definitive guide to early puppy care and training.