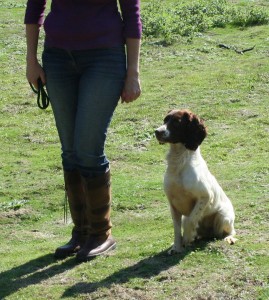 Grade Two (junior gun dog) is the second stage in the gundog training journey.
The links below lead to training exercises and information to help you reach the Grade Two level of competence.
Before you start Grade Two training, you need to make sure that your dog has already reached Grade One standard in his category.
That way, you'll be building his training on solid foundations.
The Grade Two training guide also helps you make a start on training your dog to work amidst distractions, and (weather permitting) introducing your dog to water.  Some of the articles below, are extracts from the guide
Articles to choose from:
Off lead heel work
Introducing hand signals
Introducing hunting for the dummy
Much of this information and more, is also in my junior retriever training guide Passing Grade Two,  available from the Gundog Club bookshop.
Check out this link for more information about graded training:  Graded Training for Gundogs    And when you are ready to take your Grade Two test, contact the Gundog Club on 01428 717529.   Good luck with your training.
More Information
If you enjoy my articles, you might like my new book: The Happy Puppy Handbook
 – a definitive guide to early puppy care and training.