Missing out?  Click here to get my new articles delivered to you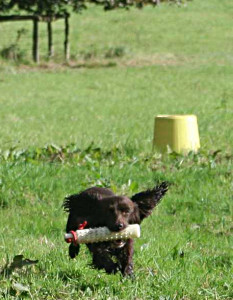 A retrieve marker is simply a visual aid to help your dog locate a dummy.
But what is the point?
And isn't it cheating?
Let's have a look
Making a transition
I use retrieve markers to make the transition between first permanent blind set ups, and a true blind retrieve.
With the true blind retrieve the dog has absolutely no clue where the dummy is located until he gets close enough to scent it.
Whereas with a permanent blind,  the retrieve is only blind in the sense that the dog did not see it fall.   He still pretty much knows it will be there when he arrives.
The gulf between these two concepts is great, and the purpose of the retrieve marker, is to help bridge that gulf.
We want to give the dog the very best chance of succeeding when we start sending him for blinds in new locations,  away from the security and comforting familiarity, of the permanent blinds that he knows so well.
How do we use a retrieve marker?
I'll go into more detail on this in the relevant exercises, but essentially, the retrieve marker is placed on the ground, just behind the dummy or dummies that you 'plant' for your dog in his blind retrieve training sessions.[wp_ad_camp_1]Your dog's eyesight is not as good as yours so as you increase distances,he may not be able to see the marker when he sets off.
But as he approaches the area of fall, the marker tells the dog he is on the right course.
Once the dog has made a successful retrieve from the marker, you can re-run it with the marker removed.
Whilst this is not a true blind, it is a great confidence building exercise and will help develop his skill.
Obviously, you need to build up distances gradually, even when using markers, or the dog won't have the confidence to travel far enough for the marker to help him.
What kind of marker?
Any bright and clearly visible object can be used as a retrieve marker.
It needs to be light enough to carry around,  and bright enough to stand out in contrast to vegetation and bare ground.
Some popular markers are 'poles',  and 'cones'.
Pros and cons
Many of you will be familiar with my upturned yellow buckets.   I think these are great retrieve markers, and they make a handy storage place for your dummies at the end of the session.
If the marker is small enough, some dogs will try to retrieve it, which makes the bucket a better bet than a cone, though cones are less demanding of storage space.
Poles need to be brightly marked – black and white bands works well,  and a flag on the top helps to make the pole more visible.
The disadvantage of poles, is that in summer, it can be hard to get them into the ground sufficiently deeply that they don't fall over as soon as you turn your back and walk away.
The disadvantage of buckets and cones, is that they are not effective in deep cover.   So you will need some of each.
Are you using retrieve markers already?  Do you have a favourite or unusual marker?  Drop your comments in the box below.
More information
If you enjoy my articles, you might like my new book: The Happy Puppy Handbook
– a definitive guide to early puppy care and training.