Someone asked this question on our Facebook page the other day
"Why on earth, in this day and age, do we still dock dog's tails?"
When we move mainly amongst others in the  gundog community, I think it is easy to forget that many people unfamiliar with working gundogs,  have no idea why we dock the tails of some of our working breeds.
They find the whole concept completely barbaric.
Without the benefit of knowledge, this is quite understandable.
So I thought I would put up this article,  to refer people to,  when they ask why we cut the tails off our spaniel puppies.
I hope that those of you supporting docking will add your own comments, and those who object will voice their concerns so that we can address them.
The purpose of docking
The original purpose of tail docking was to prevent damage to the ends of working dogs' tails.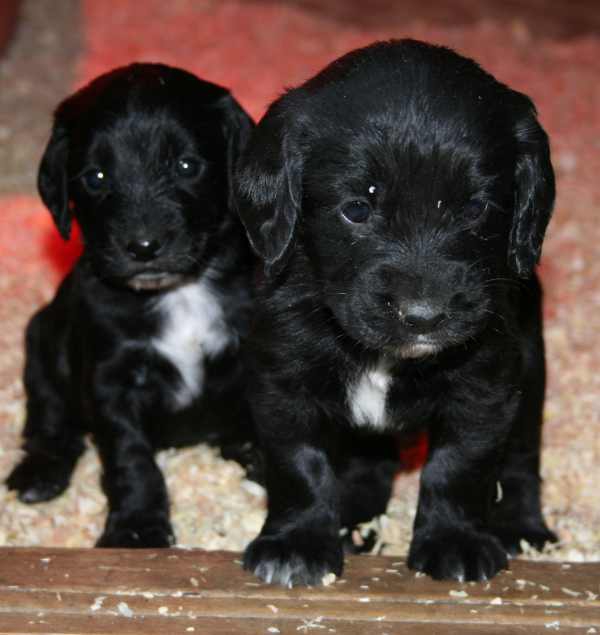 The owners of hunting dogs discovered that the adult dog was less likely to injure its tail at work, if the end of the tail was removed soon after birth.
Split tails tend to re-open repeatedly and heal poorly.
A hundred or more years ago, such a dog would probably have been discarded or left to suffer.
Nowadays of course, we provide treatment for tail damage.
And the injured dog will often require an operation.   Sometimes more than one.
This can also happen in a dog that has been docked inadequately.
Working gundogs,  particularly breeds used specifically for hunting, are far more likely to damage the ends of their tails than dogs that do not work, due to prolonged contact with undergrowth.   These are the breeds that are docked.
Fashionable docking
Nowadays,  most dog are not worked,  they are companions.  Yet, over the years, as the dog 'fancy' developed, and people began keeping working dogs as pets,  and to show,  docking persisted.   The shortened tail became part of the 'breed standard' even though its original purpose was no longer relevant.
Many dogs that would never be worked,  and were unlikely to damage their tails, were docked as puppies.
Arguably with no good reason.
As a result, public opinion against docking grew,  and put pressure on the government to ban the practice of docking.
The ban
Docking in Scotland was banned completely, and in Wales is restricted to certain breeds of dog.  In England,  a great deal of discussion and consultation took place,  and a decision was made to permit docking for litters of puppies that were intended for work.
You can read more about the legalities of docking in England in this article:  Can your puppies be legally docked?
The arguments for and against
Some people felt that docking should not have been banned at all, they see no problem with docking any breed of dog that is traditionally docked.   They argue that small puppies have little sensation in their tails at two or three days old, and show little reaction to being docked provided it is done at this early age.
Others felt that docking should have been banned outright across the board.   They argue that docking must be painful and is an unnecessary mutilation of a living creature.
Yet others, including me,  felt that the ban on docking, with an exemption for working dogs, was a reasonable solution to this ethical and practical problem.   We argue that any effects of docking at an early age should be balanced against the effects of trauma to the tail in the older dog.
Docking undoubtedly prevents pain and injury.  The real argument lies in whether or not it is ethical to dock all working puppies, to prevent pain and injury that will occur later in some of those individuals, but not in others.
Common beliefs
Of those that object to the exemption for our working gundogs,  there are a number of common premises or beliefs that underly their opinions.
Here are some of the arguments that I have heard recently
Not all dogs get tail damaged,  so just dock when they do.
This is true,  some spaniels don't damage their tails, no matter how hard they hunt.  The problem with therapeutic docking in response to persistent damage,  is that it is a much more serious operation.  Often preceded by months of discomfort whilst other remedies are attempted
My spaniel goes for long walks and hunts,  and hasn't damaged her tail!  So that proves that docking is not necessary.
Not only do we know that some dogs are more prone to tail damage than others, taking a dog for a very long walk is not the same as working the dog in a beating line.
Dogs used for beating may be hunting in thick cover for extended periods of time and do so at a rapid pace.  They are typically high drive dogs that crash through cover at speed, and their tails are highly prone to damage.
You can just bandage the tail up
Unfortunately it is almost impossible to bandage a spaniel's tail in such a way that the bandage will remain in place throughout a working day.
If it means cutting off puppy's tails, you should not work your dogs
This is quite a common response from someone whose other concerns have been addressed.   The answer is that working dogs are an absolutely essential part of producing game for the table without causing suffering.   They flush game that would otherwise not have been found,  and they ensure that quarry species can be retrieved and despatched humanely.
If you want to explore the ethics of game shooting more deeply, you might be interested in this article: A sporting chance- a look at the ethics of game shooting
More help and information
If you enjoy my articles, you might like my new book: The Happy Puppy Handbook
– a definitive guide to early puppy care and training.