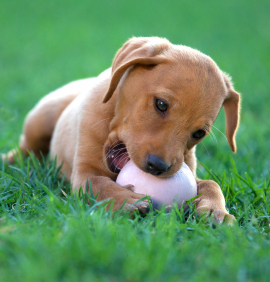 How you go about establishing a retrieve in your gundog, will depend on your starting point.
If you are lucky enough to be starting with a puppy,  you will need to work through the stages in the puppy retrieve
Many young dogs that are natural retrievers can be taken through this process in just the same way.
But sometimes,  especially with older dogs embarking on a gundog training programme,  there are problems.
Coping with difficulties
Some dogs have simply been 'put off' retrieving.  This instinct is there inside them,  but it has been suppressed.
Other dogs have developed one or more of a number of bad habits, which interfere with their progress through the most basic of retrieves.[wp_ad_camp_1]This can be very frustrating,  because we all want to move on to the more interesting retriever training.  
And to be stuck on practicing delivery for example, seems like such a waste of time.
But rehearsing good foundations for the retrieve is never a waste.  
And retrieving that is built on shaky foundations may well crumble when you start to advance your training.  So it is worth getting it right,  from the start.
More information
If you are experiencing difficulties in one or more aspects of the basic retrieve.   Pause and take stock of where you are, and where you want to be.
Difficulties like refusing to recall whilst carrying a dummy, spitting the dummy out on the ground, running away with the dummy, playing with the dummy and many more,  can be resolved.
You need to arm yourself with knowledge,  figure out what is wrong, and set about fixing it
Check out the following articles:
Training the non-retriever
Sometimes, a dog simply has not interest in retrieving whatsoever.  He just can't be bothered to chase sticks or carry balls around.   He is quite happy to sit and watch whilst you get your own ball back.
So should you, and could you,  change that?
The answer to the second part of that question is yes you can,  and to the first part,  I think you should.
You are probably not going to turn your dog into a retrieving maniac by teaching him to pick up a dummy and carry it,  but you are going to bring him and you, a great deal of pleasure.
To find out how to teach a complete non-retriever to retrieve,  follow this link:  The clicker trained retrieve.
At the end of the clicker retrieve training,  your dog will not only fetch a dummy,  he will have enjoyed the whole training process and found it a lot of fun.
And you never know, you may have awakened a sleeping instinct that he didn't know he had.
 More Information
If you enjoy my articles, you might like my new book: The Happy Puppy Handbook
 – a definitive guide to early puppy care and training.