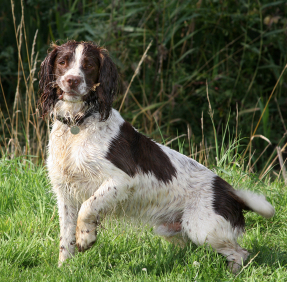 This website is for anyone that is training a gundog.
And that is searching for information to help them on their journey.
It is for those with dogs destined for a life in the field.
And for those with dogs destined for a life as a pleasant companion.
Getting lost?
This site is essentially a library of articles.  Most of which are focused on gundog training.  Many are my own thoughts, observations or experiences.
Some are 'how to' articles, and some are exercises or 'drills' that I use and that you might find helpful for your dog.
Because there are hundreds of articles here, it is easy to get lost!  The object of this particular article, is to help you quickly find the information that you need.
What about pets?
If you have a pet gundog, you may be looking for information specific to you,  rather than information aimed at training a working dogs.[wp_ad_camp_1]But pet gundogs are still gundogs, full of gundog urges and desires.   And they all benefit from training that respects and harnesses their natural instincts.
If you don't like the idea of being involved in retrieving dead or wounded animals that is fine,  we introduce those at a much later stage in training.
All the basic obedience and retriever training information on this site still applies to you.
I have divided the articles into the following groups so that you can explore a specific aspect of training,  one section at a time.
How gundogs learn
This section is for those interested in understanding why their dog behaves the way he does.
Why should you bother? Isn't it simpler if someone just tells you what to do? And gives you exercises to practice?
Well,  no,  actually it isn't.
The problem with only passing on knowledge in little 'packages' which teach you how to address each skill in turn, is that no two dogs are the same.
Improve your ability to solve training problems
There is an infinite number of ways in which an exercise can go wrong, and an infinite number of problems that your dog may develop along the way.
Understanding how dogs learn gives you the tools to deal with difficulties as they arise.  The tools to make permanent changes in your dog's behaviour, as and when you need to.
Create your own training programmes
Understanding how gundogs learn can also save you a lot of money.  Because it enables you to discriminate between bad trainers and good.
And ultimately it enables you to create your own training programmes, and to modify someone else's training ideas or exercises, to suit your dog.
In my view, it is the most important part of the website.   Follow this link to find out more  How Gundogs Learn
Gundog skills
This section is all about the skills that your dog will need to acquire as he makes his way through a gundog training programme.
Some of these skills are not required by pet gundogs,  but in most cases learning them provides huge enjoyment for the dog.  So I recommend you find out as much as you can about them.
This section describes and explains practical skills.  It focuses on the 'what', rather than the 'how to'.
If you want to know 'how' to teach something,  or are looking for exercises to practice and extend your dog's skills, try the Grades and Exercises sections.
Follow this link to Gundog Skills 
Methods and principles
There are many different approaches to gundog training.  And dog training in general has seen some major changes over the last few decades.
This section houses articles about the methods and styles of gundog training that you are likely to come across.
I have attempted to cut through the confusion,  sort myth from fact, and give you some clear principles to follow when training your dog.
Follow this link to Methods and Principles 
Equipment and facilities
Nothing fancy here.  Just articles to help you decide if you should part with your hard earned cash, and what best to spend it on.
Follow this link to Equipment and Facilities 
Gundog Grades
Here, you will find information about the Graded Training Scheme for gun dogs.  How the scheme is structured, what is required at different stages, and how to get involved.
Follow this link for Gundog Grades
Graded Exercises 
This is where you will find the 'how to' articles and training exercises or 'drills'.  Grouped according to gundog grade.
Follow this link for Graded Exercises
Rachael's Journey
The course of gundog training does not always go smoothly.  There are obstacles to overcome.  And there are ups and downs.
Sometimes it helps to see how others are getting along.
This is a collections of articles that include some of my experiences with my youngest gundog Rachael.
Follow this link to Rachael's Journey
More information
I've written two published books:  Total Recall
and The Happy Puppy Handbook
,  which you might find helpful.  I am also the author of the Gundog Club's training manuals, which you can buy from the GC bookshop.
For further help and support, check out my forum where we have a busy gundog training section.  Let me know if there are any topics you'd like me to cover, by dropping your suggestions in the comments box below