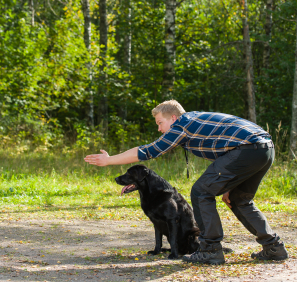 This section is all about the skills that your dog will need to acquire as he makes his way through a gundog training programme.
The skills are the same, no matter what training method is used.
Some of these skills are not required by pet gundogs,  but in most cases learning them provides huge enjoyment for the dog.
So even if you don't want to work your gundog in the shooting field, I wholeheartedly recommend you find out as much as you can about them.
'What' rather than 'How'
This section describes and explains practical skills.  It focuses on 'what' your dog needs to be able to do, (and sometimes 'why') rather than the 'how' to teach him to do it.
If you want to know 'how' to teach something,  or are looking for exercises to practice and extend your dog's skills, try the Graded Exercises section.
Strong foundations
Before we can build complex or advanced skills we need strong foundations to stand them on.   I have set out three sections for foundation skills
You will find relevant articles in each section.
Field skills
Once we have laid our solid foundations we can begin to develop more advanced skills,  the skills we will need out in the shooting field.
For retrievers these skills will revolve around the retrieving process and around developing an ability to carry out longer and more complex retrieves.
This includes the fascinating process of teaching directional control and advanced stop whistle control.
Check out
Hunting dogs
For spaniels and HPRs  we also need to harness the young dog's natural hunting ability into a controlled and efficient pattern, so that he covers his ground effectively and is able to produce game for the gun.
Most of the articles on hunting relate to spaniels as that is where my own skill lies.
Check out
Steadiness
Finally, for all gundogs, we need to instil the highest level of steadiness in the presence of game and gunfire.  These are extreme distractions that only come together in the specialised environment that is a working shoot.
Many working gundogs are not entirely steady.   But this is an attribute worth working on.  Steadiness in the field makes your dog a safer and more effective gundog.  And it makes your life a lot less stressful.
Check out
More information
'How to' articles on these skills can be found in the Graded Exercises section.   And more information can be found in Passing Grade Three, available from the Gundog Club bookshop
If you enjoy my articles, you might like my new book: The Happy Puppy Handbook
 – a definitive guide to early puppy care and training.